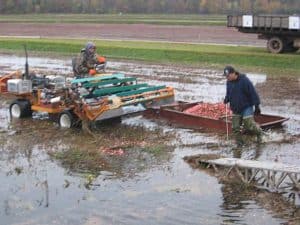 Nationally, cranberry shipments will be down this season.  Meanwhile, favorable weather helps boost New Jersey to second place nationally in peach shipments.
Cranberry growers in Wisconsin are expected to have another big harvest this fall, although it will be less than last year when average yields reached an all-time high.
The USDA has released its latest forecast for the 2017 cranberry crop showing Badger State producers are projected to rake in 5.6 million barrels of the tart fruit, down nine percent from the 2016 crop.
The Wisconsin Cranberry Growers Association says producers will begin harvesting their crop in late September and continue through much of October.  Approximately five percent of the state's cranberries will be sold as fresh fruit, with the remainder being frozen and stored for dried cranberries, juices, sauces and more.
Nationally, about 9.05 million barrels are forecast to be harvested, down six percent from 2016.  In Massachusetts, growers will harvest less than half of Wisconsin's total production at 2.2 million barrels. Washington producers expect 2017 to be a good year due to favorable weather conditions.
NJ Peach Shipments
by New Jersey Department of Agriculture
TRENTON)  –The USDA's August Crop Production Forecast for 2017 sees New Jersey peach shipments rising to second in the U.S.  The forecast, which is based on phone calls, mail, internet, and personal interviews with farmers in New Jersey and around the country, predicts state peach farmers will produce 48 million pounds of peaches this year.
"Conditions in New Jersey have been perfect for growing peaches this season, allowing farmers to have an extremely high yield of the juicy, sweet tree fruit," New Jersey Secretary of Agriculture Douglas H. Fisher said. "We want people to know Jersey Fresh peaches are plentiful and available at supermarkets, farmers markets, and roadside stands. We appreciate the work the USDA does to keep produce buyers and consumers up to date on the current trends in the industry."
New Jersey is on track to harvest approximately eight million more pounds of peaches in 2017 than it did last year, and is behind only California in peach production.  The Jersey peach season should continue through mid-September.
The USDA surveyed approximately 21,700 producers for the crop production report. The producers were asked questions about probable yield.  These growers will continue to be surveyed throughout the growing season to provide indications of average yields.
The August Crop Production report also forecasted a crop of 44 million pounds of apples for the Garden State, also up from last year. New Jersey cranberry producers expect to harvest 590,000 barrels, which would rank New Jersey third in the U.S. in cranberry production.
(Editor's Note:  Both South Carolina and Georgia suffered severe crop losses this year due to a spring freeze, allowing New Jersey to come in second in peach volume.  Also, virtually all of New Jersey cranberry production is for the processed market, not fresh.)