P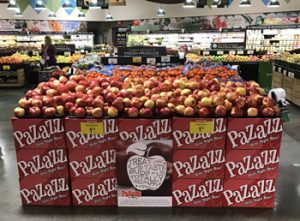 azazz apples shattered retail sales targets last winter, less than a year ahead of its nationwide 2018 roll out, according to Honeybear Brands. The variety, which debuted a month earlier than usual in December 2016, sold faster, in more markets and more retail stores than at any other time since its initial introduction.
"We're looking at the sales numbers and receiving feedback from our retail partners as we speak," Don Roper, Honeybear's vice president of sales and marketing, said in a press release. "We're thrilled. Pazazz did exactly what we designed the variety to do: offer a truly exceptional variety to help drive new revenue for retailers as well as provide an opportunity to extend their sales window of premium apple varieties well into the later winter months."
Roper said it's too early to put an exact number on final retail sales figures, but this year's crop production was up nearly 400 percent over last year and is already sold out. Retailer feedback highlighted strong, repeat customer sales and a sharp rise in inquiries from new customers seeking out the variety by name.
"Pazazz has created a strong following among apple lovers," Roper said in the release. "That's an incredible development in just a few short years and an absolute win for retailers who are giving their customers another reason to get excited in the fresh produce aisle. It is a real testament to the unique eating experience of this apple and its flavor profile that has significantly raised the bar in the apple category."
Thanks to increased production from planted acreage and the continued maturation of Pazazz orchards, the 2016-17 Pazazz crop debuted in many regions a month earlier than usual, arriving on store shelves in December 2016 and making an immediate impact on pre-holiday retail sales. In all, Pazazz was sold in more than 50 markets and 1,000 stores in January and February.
"We couldn't be happier with the results we've seen from Pazazz," Craig Clasen, group vice president of produce purchasing at Hy-Vee, said in the release. "For a new variety, it's performing incredibly well across our more than 240 stores throughout the Midwest and it offers many of the things we try to bring our customers with every piece of produce that they purchase — excellence in quality, superior taste and freshness."