Posts Tagged "Chilean navel imports"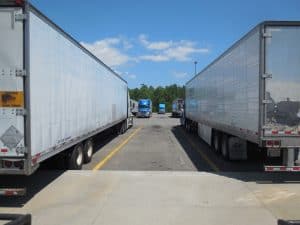 Here's some shipping updates including California strawberries, plus some not so obvious ones such as garlic, Indiana potatoes and imported citrus from Chile.
This has been one of the best season's for California strawberry shipments as volume, quality and more predictable loadings have been much better than the past three or four years.  Good volume  should continue from Watsonville heading toward autumn. Last week about 1,000 truck loads were shipped.  That should mean good loading opportunities into September, before the transition to shipments out of Oxnard, CA, which will continue into December.
For example, Well-Pict of Watsonville, CA grows and ships strawberries and raspberries for the late-season on about 700 acres in Oxnard.  Naturipe Berry Growers of Salinas, CA has a fall crop in Santa Maria, CA., with best loading opportunities coming toward an end-of-August, or early September.
Salinas Valley strawberries and vegetables – grossing about $7400 to New York City.
Garlic Shipments
Most garlic shipments in the U.S. are coming out of California, where supplies are plentiful and quality is good.  For example, Christopher Ranch of Gilroy, CA had to cut garlic plantings by about 10 percent the past couple of years due to the drought, but have now rebounded with volume this season being a little above normal.  Loadings of garlic started last June and will continue until early September.
Meanwhile, Spice World Inc. of Orlando, FL and The Garlic Co. in Shafter, CA also have good volume out of California.
Indiana Potato Shipments
Red potato shipper Black Gold Farms of Grand Forks, ND starts harvesting spuds this week at its Winamac, IN farming operation and will be shipping through the month.  This is the fifth year of the Indiana program.
Chilean Navel Imports
Chile's navel orange shipments through the week of July 10th were 29 percent over a year ago with 35,591 tons, compared to last season's 27,600 tons.  However, the season started late, but will end two to three weeks earlier this year due to a smaller crop and weather issues.  That means imports to the U.S. lasting through October.