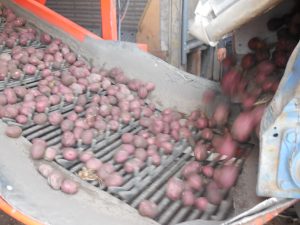 The Central Minnesota potato season kicks off the upper Midwest potato season each year and demand for trucks has been strong this year.
The season started July 24th with red potatoes out of Big Lake, MN as well as Long Prairie, MN although in most years Long Prairie gets underway a week to 10 days later.  The two areas only have five or six major shippers, but they will load 4000 to 4100 trucks in roughly a six-week period.  The season starts winding down after Labor Day.  Central Minnesota russet shipments just started late last week.
The DeChene Corporation of Big Lake has finished its season, while Peterson Bros. River Valley Farms Inc. of Long Prairie should be finished by Labor Day.  John Petron of Long Prairie should wrap up its season no later than the third week of September.
A few shippers in the Red River Valley of North Dakota and Minnesota also market and ship potatoes from Big Lake and Long Prairie.  While Big Lake and Long Prairie have wash plants, there are no storage facilities so they wash, pack and ship as much product as possible directly from there.
Some Red River Valley potato shippers, such as NoKota Packers Inc., of Buxton, ND ,which has both wash, packing and storage facilities handles early season spuds from Minnesota until the valley gets going.  NoKota, which is one of the valley's largest red potato shippers already had 44 truckloads of potatoes sold yesterday for this week (August 28 – September 1) that were grown in Central Minnesota.
A primary reason truck supplies can be in short supply, whether it's Central Minnesota or the valley is the lack of freight to haul in into those potato producing areas.
NoKota Packers plans to get started with valley potatoes by September 11th.  The valley's largest shipper, Associated Potato Growers Inc. of Grand Forks, ND is hoping to get its season under by September 18th.
While shippers have been scrambling to get enough trucks this season out of Central Minnesota, load board service DAT recently reported a critical truck shortage occurred on August 16th out of Central Minnesota.  It pointed out there were 23.4 loads of potatoes available for each truck posted!  DAT reported at that time rates from St. Cloud, MN (which is 57 miles Southeast of Long Prairie and 27 miles northwest of Big Lake) were $3171 to Atlanta and $2652 to Dallas.
Yesterday NoKota Packers reported rates at about $3600 to Plant City, FL and $2800 to San Antonio.