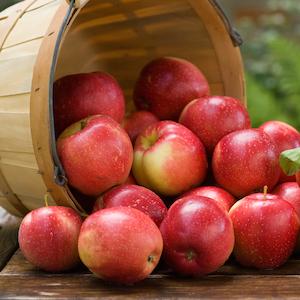 by Next Big Thing, A Growers' Cooperative
Albion, NY – An abundant crop of excellent quality SweeTango apples is coming this fall from member-growers of NBT Cooperative.
This premium apple variety is known for its outstanding sweet flavor with a lively touch of citrus, honey and spice. Its texture is unmatched; biting into this remarkably crisp apple produces a loud crunch and satisfying burst of delicious juice. Harvested in the early fall, SweeTango is an early-season category leader and consumer favorite, having been developed by the University of Minnesota and introduced in 2009 to feature the very best characteristics of the Honeycrisp and Zestar! apple varieties.
Theron Kibbe of NBT Cooperative notes that retailer success with the best-selling SweeTango is due in part to its unique position as an early-season variety. "Nielsen data shows that opportunities for SweeTango are especially strong in the early season, when it's one of the first premium apple varieties to come on in the fall," he said. Kibbe referenced Nielsen data dated Aug. 7 – Oct. 29, 2016 that shows SweeTango weekly volume averaging 54 lbs per store and a weekly sales average of $233 per store. "Our eye-catching packaging redesign, and the 2-lb pouch in particular, has been well received with high demand from consumers and retailers alike," he added.
Harvest is expected to begin in late August. While Washington's harvest is behind 2016, Midwestern crops are a few days ahead. New York, Quebec and Nova Scotia crops will complete the harvest on schedule and consumers will enjoy SweeTango soon after Labor Day.
Despite weather events — including early frost affecting some orchards in Michigan and a number of hail events in Washington, Michigan, and New York — the 2017 crop has potential to be slightly larger than that of 2016. Kibbe commented, "growers are expertly managing and thinning another fine crop of SweeTango with a good range of sizes. We're excited to start another season."
Retailers are urged to place orders now and can find their regional sales representative at http://sweetango.com/about/for-retailers/sales-desk/.
ABOUT NEXT BIG THING, A GROWERS' COOPERATIVE
Next Big Thing, A Growers' Cooperative is a 47-member cooperative of family growers, spread from Nova Scotia to Washington State, that grows and markets managed varieties of apples, beginning with SweeTango. You can find more information on SweeTango at http://www.sweetango.com or on Facebook at http://www.facebook.com/sweetango.