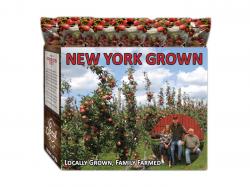 By Hudson River Fruit Distributors
Hudson River Fruit Distributors is excited to announce its brand new, high graphic, apple display bin. The bin is the latest addition to Hudson River Fruits expanding packaging lineup that aims to utilize apples in many different ways, while bringing the farm fresh feel to your stores!
The bin displays a hi definition photo of one of the farms owned by Hudson River Fruit, and highlights the locally grown and family farmed aspects in the forefront. The side of the bin features a metal plaque "mounted" onto wooden planks, which contains a quote from co-founder and owner Harold Albinder, about the company, as well as, the history and tradition of Apples grown in New York State.
"We are very excited to launch this marketing tool to help our customers bring the farm to their stores this fall. The display bin can be used to display local loose apples, tote's, poly bags or our 2LB Lil Chief bags." Says Pat Ferrara, Sales Director at Hudson River Fruit Distributions, " We are excited to share our story and products with customers at store level."
About Hudson River Fruit
Hudson River Fruit is a 4th generation, family owned and operated apple grower, packer  and shipper in New York. They have been in business for over 54 years and are widely recognized as an industry leading apple supplier. They grow over 21 different varieties and ship over 2 million boxes of fresh apples yearly.
Hudson River Fruit Distributors was established on July 12, 1963, by Isadore "Izzy" Albinder and his son Harold Albinder.
 Izzy first entered the apple business back in 1932, after emmigrating from Russia. He saw an opportunity to broker apples, so he bought a pushcart and sold apples in the neighborhood streets of Brooklyn, New York. A time came that Izzy had trouble finding apples of high enough quality. He decided to venture up to the Hudson Valley, and began fostering relationships with apple growers, some of whom we still work with today