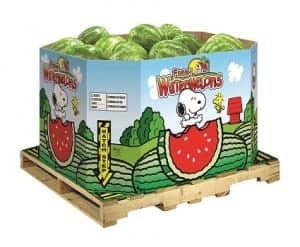 International Paper's North American Container business is putting Snoopy, Charlie Brown and other Peanuts characters on bulk bins.
Two product displays with the characters are available.  Both are corrugated bulk bins, with one featuring Snoopy and watermelons and the other with Snoopy, Linus and Charlie Brown under the words "it's the great pumpkin."
"This powerful combination is a standout, drawing customer attention and increasing sales by making shopping a fun experience," said Scott Dillon, director of marketing, said in a news release. "Peanuts has a multi-generational appeal, and this is a solid way to capture the consumer sentiment around this iconic brand."
The bins are available at International Paper's five bulk facilities.
Kroger, Fresh Encounters win Marsh stores at auction
Marsh Supermarkets, at one time a leading Midwest supermarket chain based in Indiana, has recently accepted bids at auction for 26 of its remaining 44 stores. The move follows the company's closure of 19 locations and bankruptcy filing in May.
Cincinnati-based supermarket powerhouse Kroger will acquire 11 Marsh stores for $16 million, and Fresh Encounter Inc., based in Findlay, OH, will buy 15 Marsh locations for $8 million.
Kroger currently has 2,800 stores nationwide, while Fresh Encounter operates 21 stores under the Community Markets, Great Scott Community Markets, Sack 'N Save Supermarket and Chief banners. Earlier this year, Fresh Encounter purchased Remke Markets' 10 stores in the Cincinnati area.
The transactions are subject to bankruptcy court approval. One possible obstacle to the sale is an objection by CVS Health, which purchased the pharmacy accounts from Marsh in April. As part of the agreement, CVS stipulated that 37 stores where Marsh operated pharmacies could not operate as pharmacies for five years.
Kroger and Fresh Encounters have said in court documents that it would proceed with the acquisition only if the restriction is removed. Marsh has countered that the agreement only bars Marsh from operating pharmacies at the stores, and that the language is not enforceable under the bankruptcy code.
The sale of the remaining locations would bring to an end Marsh's 86 years in business. Ermal Marsh opened the first Marsh store in 1931 in Muncie, IN. The company went public in 1953, when it operated 16 stores.