Posts Tagged "all-electric trucks"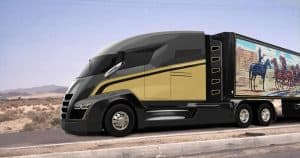 Bamford Produce Co. Ltd., based in Mississaugua, ON, announced it has reserved the all-electric Class 8 Tesla trucks, as part of its long-term environmental sustainability vision to reduce its carbon footprint.
"As one of Ontario's most long-standing produce distributors with more than 75 delivery and transport trailer vehicles in operation across the province on a daily basis, we recognized the opportunity that the new eco-friendly Tesla trucks presented in enabling our business to put in motion a plan to significantly reduce our carbon emissions," said Steve Bamford, owner of Bamford Produce and Group of Cos.
Although production of the Tesla all electric trucks is expected to begin in 2019, Bamford Produce is confident in the decision to secure the new trucks.
"The Tesla trucks align well with our commitment to continually enhance our operations towards more sustainable business practices, as well as our dedication to provide safe and fresh produce and efficient distribution services to our customers," said Bamford.  "We anticipate that this investment will have an immense impact on our efficiencies and savings in the areas of fuel costs and fleet maintenance, and more importantly, will ensure a greater measure of safety on the roads for our trucking employees, in particular for those servicing the long haul routes."
Tesla semi trucks can operate for 500 miles on a single charge, and the company guarantees zero breakdowns for 1 million miles and estimates a 20 percent reduction in costs when compared to diesel trucks.
About Bamford Produce
The Bamford Family is one of founders of the Ontario Food Terminal in 1954.
Before 1954, the hub for produce wholesaling was St. Lawrence Market in downtown Toronto. This is where James Bamford and Sons Produce was located. The company has been thriving since 1881. This translates to 132 years of experience.
After years away from the Ontario Food Terminal, The Bamford Family returned in 2003 with the acquisition of the Fresh Advancements stall.
Fresh Advancements marks the 4th Generation of Bamfords in the produce industry. Since 2003, the single stall has expanded to three stalls. Together with Freshline Foods, our processing and fresh cut division, along with Bamford Produce, our food service distribution division, the Bamford Family is uniquely positioned to service wholesalers, retailers and the food service industry
Today we are made up 6 companies that allow us strategic vertical integration that helps us maximize efficiencies and offer all our customers a very unique diversified model. These include; Farming/Growing and Packing Operations in Ontario, with Bay Growers and Bamford Family Farms located in Georgian Bay.
We also have our own Freight Division, FA International Logistics, which includes our own fleet of tractor-trailers specifically delivering product to our companies direct from growers all over North America, and global DSD services for retail and food service.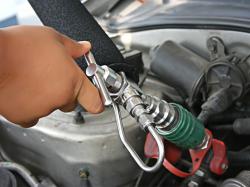 Chicago's  Testa Produce, which added two all-electric trucks to its delivery fleet earlier this year, is now adding 10 new trucks that run on clean-burning, low-cost domestic compressed natural gas (CNG). The new 24-foot refrigerated CNG trucks will replace existing biodiesel trucks in Testa's fleet, helping the foodservice distribution industry's green leader to lower its carbon footprint even more and to bring the company closer to its goal of zero dependence on foreign oil within five years.
Manufactured by Cummings (chassis) and Kidron (refrigerator body), Testa Produce's CNG trucks are quieter, have lower emissions and require less maintenance than diesel/biodiesel trucks with no loss of power or mileage. In addition to being more eco-friendly, the new trucks deliver cost savings: CNG is priced at around $2.60 per gallon compared to biodiesel's recent $4.30 to $4.89 per gallon including tax, according to Stephanie Testa, Distribution Manager at Testa Produce.
Adding CNG delivery vehicles is in line with Testa Produce's commitment to raise the bar on sustainability in the foodservice distribution industry. The company is the first perishable food distributor in the nation to earn LEED® Platinum, the highest certification available from the U.S. Green Building Council, for its award-winning state-of-the-art "green" distribution center. The facility incorporates energy-saving solar, wind and water technologies. Prior to piloting electric and CNG trucks, Testa was one of the first to convert its entire delivery fleet to biodiesel and all company cars to hybrids.
"We are always looking for innovative, cost-effective ways to reduce our carbon footprint," says Peter Testa, President of Testa Produce. "Powering trucks with clean, renewable domestic compressed natural gas is an alternative-fuel solution that we're excited to implement. Along with our electric vehicles, CNG will help move reduce our dependence on non-renewable fossil fuels. As a transportation-based business, we're demonstrating that we can, indeed, operate in much more sustainable ways."
The first of Testa Produce's new CNG-powered trucks arrived in late June. Nine more will be delivered over the next few months as leases on existing trucks expire.
About Testa Produce: 
Founded in 1912, Testa Produce, Inc. is Chicago's premier independent produce distributor. In addition to a broad line of domestic, local, organic, sustainable, and imported fresh produce items, the company delivers frozen, canned, and specialty foods to fine restaurants, hotels, and institutions throughout Illinois and much of Wisconsin. Testa is a member of Legacy Foodservice Alliance.  In 2012, the company became the first food distributor in the nation to earn U.S. Green Building Council LEED® Platinum certification, the highest level available.
Press Release by: Testa Produce