Posts Tagged "Boomerang 2"
Cargo Data's Boomerang 2 series combines the versatility of a reusable temperature recorder with the convenience of a built in high-graphic temperature chart display.
This unique temperature recorder is an ideal instrument for monitoring cold storage warehouses, refrigerated ocean containers, and reefer trucks/trailers.  The reusable nature of these instruments eliminates the need to repeatedly purchase single-use disposable temperature recorders.  Additionally, the complete temperature chart for the monitored period can be viewed immediately without the need to connect the instrument to a computer or reader.
Maximize Efficiency
Boomerang 2 can bring new efficiency to internal QA/Receiving/Food Safety operations.  The easy-to-read chart is viewable at any time during the monitoring session.  This unique feature enables quick scheduled temperature checks with the touch of a button.  Boomerang 2 can monitor temperature for up to 180 days continuously.  All temperature data can be easily downloaded and archived using Cargo Data's free KoldLink desktop software.
Cargo Data Features:
• Saves temperature data from multiple monitoring sessions for future download/save/print
• Embedded unique serial number and cycle counter
• Can be manually reset unlimited times
• User selectable and customized ranges, LED alerts, and audible locating beeper
• Downloads directly to a computer using standard mini USB 2.0 cord
• Free KoldLink desktop software provides chart viewing, management reports, online data archiving via UpLink, email data sharing, and data archiving
Boomerang2  supports use of external ambient air sensors and probes for monitoring internal product temperatures.  Purchase sensors here, and probes here.
• User replaceable battery (CR2450).  Approx. battery life: 6 months.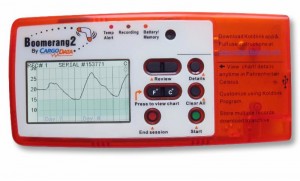 By Cargo Data
Cargo Data is pleased to announce its new Boomerang 2 chart-view reusable temperature recorders. These versatile instruments provide a full temperature chart view without the need to connect the instrument to a computer or reader.
Great for Food Safety/QA audits–or routine monitoring
Boomerang 2 instruments can be used to monitor cold storage warehouses, moving trucks/trailers, ocean containers, or any other temperature controlled space.
Boomerang 2 has a large internal memory which saves data from multiple monitoring sessions.
All temperature data can be viewed, saved, and printed using Cargo Data's free KoldLink software. Simple micro-usb connectivity.
User can configure run time, sampling intervals, ranges, and optional audible locating beeper.
User replaceable battery provides 6 months of continuous monitoring.
Boomerang 2 supports use of external sensors and probes
For complete information about Boomerang  2 temperature recorders call 800-338-8134 or email information@cargodatacorp.com .