Posts Tagged "Calfiornia tomato shipments"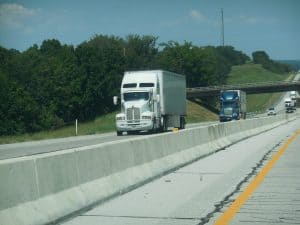 From South of the border in Baja California to just above the U.S., Mexican border and then up north in the San Joaquin Valley, good volume tomato shipments are coming soon.
Although Baja California tomato shipments have been under way since April, the seasonal increase in volume of Mexican tomatoes crossing the U.S. border at Otay Mesa, CA has just started.
August is typically a slower month, primarily since growers don't plant as much because there will be homegrown garden tomatoes and regional production in the summer.  When those summer tomatoes start fading, the larger commercial farmers come back for a fall season.
Everything from conventional and organic roma tomatoes as well as heirloom tomatoes and organic round tomatoes from Baja California started in June.
Higher volume shipments from this area south of San Diego in Mexico will ramp up in mid-October and continue into mid-January.
California Tomato Shipments
Meanwhile, shipments are also is underway north of the U.S. Mexican border.
West Coast Tomato Growers LLC, of Oceanside, CA, started shipping romas and round tomatoes in July, and supplies are expected to last into November.  The company has increased its roma production 50 percent this season.
A decade ago, there were a handful of tomato growers in San Diego County, but now West Coast is the lone survivor.  A primary reason is land values for home and commercial real estate, combined with the increase in Baja production.  Labor and production costs also are cheaper south of the border.
Although the Baja California tomato farming production continues to increase, there is competition from California's San Joaquin Valley.  The valley has bee shipping tomatoes since the second week of June and will continue until the first week of November.
Hot summer weather in northern California led to below-average yields and some quality issues, but by September more favorable weather is expected that should result in better volume and quality out of northern California.
Northern California tomatoes – grossing about $4000 to Chicago.
Here's a shipping update from various areas across the country, where there should be some loading opportunities.  Here's also a cautionary note about some splitting of Oregon cherries due to recent rains.
California Tomato Shipments
Vine ripe tomato shipments from the Oceanside, CA area have started, with romas to get underway in August.  Both types of tomato shipments will continue through November.
Arkansas Tomato Shipments
A lot of tomato shipping areas around the country claim to ship home grown quality tomatoes, but consumers certainly know the difference. This season, there's certainly an exception. Haul Produce is referring to vine ripe tomatoes from Arkansas. This beautiful, tasty product is currently being shipped from the Hermitage area and will continue through July.
Peach Shipments
New Jersey peach shipments get underway within the next week or so and should yield 30,000 tons to 35,000 tons of fruit from the state's 5,500 acres of trees. Peach loadings will remain available through most of September.
Northwest Cherry Shipments
A monthly record of 10.3 million boxes of cherries were shipped from the region in June.   The volume was more than double the June 2012 tally of 4.7 million boxes — part of that year's record crop….Rainfall in the last week of June has resulted in some splitting of Oregon cherries, but damage varied by grower. So use caution and pay attention to what is being loaded on your truck.  It could save you a claim or rejected load.  The amount of damage to cherries is estimated a about 10 percent of the fruit being lost.