Posts Tagged "FlashLink"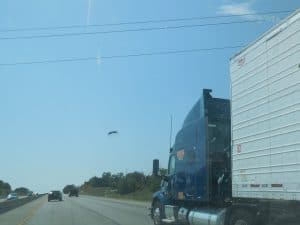 Pleasanton, Calif., — DeltaTrak® announces the addition of a new data security feature to the FlashLink BLE (Bluetooth Low Energy) Wireless Monitoring Solution.

According to Frederick Wu, President and CEO of DeltaTrak,  "With the new security feature, shippers have the option to require receivers to enter an access code before they can see or download data from the BLE loggers. This gives them that extra layer of data security." A smartphone app sends information from a mobile device to the BLE Web Application where it can be viewed remotely by authorized users.

This solution is ideal for three types of applications which include 24/7 facility monitoring, pre-cooling operations, and delivery routes. With the FlashLink BLE loggers, customers have secure access to data, immediate alert notifications, and reports in PDF and CSV formats.

The FlashLink BLE logger helps suppliers maintain continuous visibility of temperature and humidity during facility monitoring and pre-cooling operations. It is especially ideal for 24/7 facility monitoring, such as cold storage warehouses, distribution centers, greenhouses, temperature controlled processing, packing and staging areas. Alert notifications are sent to personnel which allow them to take quick corrective action before products are compromised by changes in temperature conditions.

With the FlashLink BLE Wireless Monitoring Solution, pre-cooling operations will improve efficiency, increase pallet throughput and extend product shelf life. The loggers monitor produce in cooling tunnels and when required temperatures are reached alerts are sent via email or SMS notifications. Instead of pre-cooling based on time and relying on staff to take pulp temperature, this automates tracking and provides real-time temperature conditions during the process. Data can be analyzed by personnel to identify strengths and weaknesses of their operation, and assure that products are adequately cooled, while eliminating the problem of pallets not being cooled long enough.

For delivery routes, receivers can also read temperature history data from the FlashLink BLE Logger without opening the vehicle doors or locating the logger inside the truck. As soon as a vehicle arrives, the smart phone application accesses data from the logger from up to ~100 feet / 30 meters away, so information is available immediately upon arrival.

FlashLink BLE Logger settings are customizable, including device name, logging interval, and high/low alarm limits. All data is available in the cloud, where temperature and location are reviewed remotely for tracking shipments in progress, making cold chain management decisions and reports for audits, HACCP and FSMA documentation.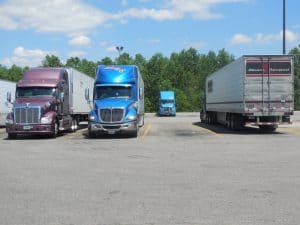 Pleasanton, CA. — DeltaTrak® recently announced the release of its new FlashLink Real-Time Monitoring Solution. This system combines the FlashLink Real-Time In-Transit Logger cloud service.  The logger records  temperature, humidity, shock, light and location and sends data via GSM cellular network to a web account. Reliable up-to-the-minute information is accessed with a standard web browser using a PC or any internet-ready device.
"The FlashLink Real-Time In-Transit Logger is especially beneficial to shippers because they don't have to wait for a receiver to open vehicle doors, find the logger, download it and email the trip history report," according to Fred Wu, President and CEO of DeltaTrak.  "Information is automatically uploaded to the cloud and shared between shippers and receivers, and critical cold chain management decisions can be made right away."  The stored data is also available for traceability, audits, HACCP documentation and FSMA compliance.
Two logger configurations are available, a domestic model with a 25-day logging duration and data uploaded every 15 minutes, and an export model with a 100- day logging duration and data uploaded every hour.  Shippers can customize high/low alarm settings, and alerts are automatically sent when out-of-range conditions occur.  The logger also measures shock which indicates rough handling of a load, and a light sensor indicates door openings which either means a shipment arrived and is being received, or it can reveal security issues if this occurs while the shipment is still in transit.
The single use FlashLink Real-Time Logger is packaged in DeltaTrak's unique and highly durable logger sleeve which provides protection for the device and maximizes reliable operational characteristics.  Using GSM cellular data transmission technology, the FlashLink Real-Time Logger has been demonstrated to reliably transmit from within steel shipping containers and refrigerated trailers making it ideal for use in most transportation applications.  The FlashLink Real-Time In-Transit Logger is a great solution for anyone that needs up to the minute information on the quality of the products being shipped.
About DeltaTrak
DeltaTrak® is a leading innovator of cold chain management, environmental monitoring and food safety solutions for the food, produce, life science, and chemical industries.Additional information can be found at www.deltatrack.com.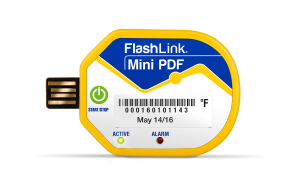 Pleasanton, Calif., — DeltaTrak® announces the release of two new FlashLink Mini PDF In-Transit Loggers .  Available in either °F or °C models, these compact, single-use temperature recorders provide accurate, reliable monitoring of conditions during transport, storage and handling of any perishable product. 
One unit works for all modes of transportation: air, truck, rail or sea. "This simplifies logger inventory management for shippers," according to Frederick Wu, President and CEO of DeltaTrak.  "Since recorded data is automatically scaled to fit a graph as a one page PDF report, they don't need to stock multiple models with various logging durations."  This means a shorter logging period will be shown with high resolution as a full graph.
Plug-and-play features of the FlashLink Mini PDF Loggers make them ideal for import/export operations.  A built-in USB connector and on-board software allow quick, easy access to trip data without using special reading devices like cradles or adapters, and no need to download or install software on a PC.  Receivers can retrieve data as soon as a shipment arrives, and make quick accept/reject decisions on the dock.
The logger can plug into a PC or tablet, or print reports directly to a printer with a USB port – no computer needed!  PDF files can be emailed to suppliers and transportation companies, or to insurance adjustors in the event of a claim situation. 
Each unit comes mounted on a bright green shipping card, making it easy to locate when a load arrives. A peel-away barcode label with the logger serial number can be attached to shipping documents and scanned into an ERP system for complete traceability. 
The FlashLink Mini PDF Logger provides verification and documentation that products have been kept within proper temperature range for FSMA, HACCP, and global food safety regulations.  They ensure delivery of high quality products with longer shelf life, and ultimately support consumer safety. 
About DeltaTrak®
DeltaTrak® is a leading innovator of cold chain management, environmental monitoring and food safety solutions for the food, produce, pharmaceutical, life science, and chemical industries. Contact DeltaTrak® by phone at 1-800-962-6776 or by email at marketing@deltatrak.com. Additional information can be found at www.deltatrak.com .