Posts Tagged "fresh vegetables"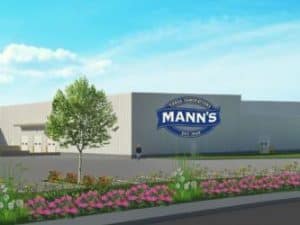 by Mann Packing Company
SALINAS, Calif. – Mann Packing,  an industry leading supplier of premium fresh vegetables, broke ground in August on its new processing facility in Gonzales, California. The groundbreaking ceremony featured company representatives, local government officials and business leaders.
Headquartered in Salinas, California, Mann's selected the City of Gonzales for its 130,000 square foot expansion project because of its convenient location and zoned industrial area.  The company has a further land base at the same location to accommodate future expansions. 250 people will be employed at the new facility.
Sixty-five percent of the company's manufacturing volume will relocate from Salinas to the Gonzales facility. Mann's location at 1250 Hansen Street in Salinas will continue to process fresh-cut vegetables, but will mainly serve as the company's central warehouse, cooling and shipping facility.
Construction of the facility is targeted for completion in early 2018, with production beginning in spring. The facility was designed with the goal of achieving electric sustainability and will utilize a windmill turbine to supply energy for heating and cooling.
"We are proud to announce our new home in Gonzales and excited to be part of this thriving business community," said Lorri Koster, chairman & CEO at Mann's. "This project represents the beginning of a partnership and a culmination of years of planning to create a facility which will serve as an anchor for the company's fresh processing needs," she added.
About Mann Packing Company
Founded in 1939, Mann Packing is an industry leading, third-generation supplier of premium fresh vegetables. Headquartered in Salinas, Mann's is one of the largest suppliers of western vegetables, Broccolini® and sugar snap peas in North America. The firm holds the distinguished Women's Owned Business Certification from the Women's Business Enterprise National Council – the most widely recognized and respected certification in the United States for women's business enterprises. Leading the way in product innovation, environmental sustainability and green supply chain management practices, Mann Packing is consistently vigilant in food safety, employee wellness and quality assurance, making for one of the most trusted brands in the industry.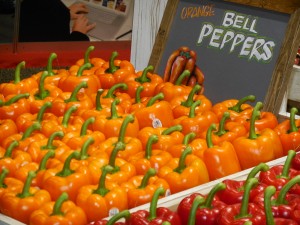 New USDA estimates say U.S. per capita use of fresh vegetables dipped 5 percent in 2013 and imports claimed a record share of the total supply.
Preliminary numbers show per-capita use of fresh vegetables (excluding potatoes and melons) in the U.S. totaled 138.8 pounds in 2013, down 5 percent from 145.5 pounds in 2012 and off 5 percent from 146.8 pounds in 2000, according to the USDA's Economic Research Service.  That preliminary number is the lowest per-capita use of fresh vegetables since 1998's tally of 136.1 pounds.
Imports accounted for a record 27.3 percent of fresh vegetable use in the U.S. in 2013, up from 25.1 percent in 2012 and double the import share of 13.2 percent in 2000. U.S. vegetable exports accounted for 7.1 percent of the domestic supply, up from 7 percent in 2012, but down from 7.8 percent in 2000.
The report reflects a decline in most of the major fresh vegetables tracked in 2013 compared with the previous year, including tomatoes (-3 percent to 19.6 pounds), head lettuce (-12 percent to 12.5 pounds), carrots (-4 percent to 7.6 pounds), bell peppers (-10 percent to 10.3 pounds) and sweet corn (-4 percent to 7.4 pounds). Other less consumed vegetables also showed declines, including asparagus (-5 percent to 1.6 pounds) and snap/green beans (-5 percent to 1.7 pounds).
Fresh vegetables that showed stable per-capita use included cabbage (7.1 pounds) and cauliflower (1.2 pounds).
Fresh potato and broccoli per-capita use was higher in 2013, according to the USDA.
Broccoli rose 8 percent from 6.3 pounds in 2012 to 6.8 pounds in 2013, while potato per-capita use in 2013 rose 5 percent to 36.1 pounds.
The change in per-capita use doesn't mean that much for a single year, said Desmond O'Rourke, president of Belrose Inc., Pullman, Wash.  Weather events and yield differences can create swings, he said. O'Rourke said USDA Agricultural Marketing Service shipment data shows 2013 vegetable volume was flat compared with 2012, though the USDA includes pumpkins in their total volume numbers for vegetables.