Posts Tagged "greenhouse vegetables"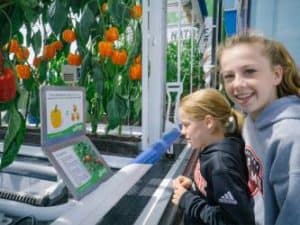 by NatureFresh Farms
Leamington, ON – The heat of the summer is settling in across the Midwest though this has not deterred NatureFresh™ Farms' mobile greenhouse tour from missing a beat. Already nearly 50 events completed since mid-April, consumers continue to flock to #GreenInTheCity events to learn more about how greenhouse vegetables are grown.
"The mobile greenhouse has not only been a conversation starter but a difference maker in how we connect with our customers", said Ray Wowryk, Director of Business Development.
The mobile Greenhouse Education Center (GEC) is a 38' custom-built unit that is an exact snapshot of how NatureFresh™ Farms grows its vegetables in state of the art high tech greenhouses in Leamington, ON & Delta, OH. Equipped with fruit bearing plants and complimented by a live Bumblebee Eco-System, the GEC serves as an education resource to inform consumers about how greenhouse vegetables are grown.
"We care about the future of fresh and all that it entails; we need to collectively increase fresh produce consumption. NatureFresh™ can help do that with the GEC and by getting front and center with consumers, we share our story to help inform them of the value of greenhouse vegetables. Knowing who grows what you buy is important, understanding how its grown is just as important if not more", commented Wowryk.
Supporting the GEC this summer are 5 college students who serve as NatureFresh™ Brand Ambassadors at each event. The team is responsible for event day operations and interacting with retail partners to ensure their customers have the best possible experience. With varied backgrounds ranging from agri-business to environmental science to marketing to biology, the team provides unique perspectives of the value of greenhouse grown vegetables.
"We are able to immediately impact consumers purchasing decisions at store level with the knowledge we share about how we grow greenhouse vegetables", said Cole Burkholder, GEC Team Member & 3rd year Environmental Science Major from Ohio State University. Agriculture is nothing new to Burkholder whose family operates a farming operation of more than 500 acres of row crops in central Ohio. "The look on people's faces when we explain the greenhouse growing process and they see the live plants with real fruit, it's priceless, you kind of see that 'a-ha' moment in their eyes. We've even had customers show us their shopping carts when leaving to show us the tomatoes or bell peppers they have purchased because of our conversation. It's a pretty good feeling!" commented Burkholder.
Now in it's 3rd year, the #GreenInTheCity Tour has completed more than 200 events to date across eastern North America connecting with consumers at retail stores, summer camps, schools, and community fairs.  The 2017 tour will continue on through early November wrapping up at the Royal Agricultural Winter Fair in Toronto, ON November 12th.
To learn more about NatureFresh™ Farms and the #GreenInTheCity Tour, visit naturefresh.ca/GEC.
About NatureFresh Farms –
NatureFresh Farms™ has grown to become one of the largest independent, vertically integrated greenhouse vegetable growers in North America. Growing in Leamington, ON and Delta, OH, NatureFresh™ Farms prides itself on exceptional flavor & quality. Family owned NatureFresh Farms™ ships Non-GMO greenhouse grown produce year-round to key retailers throughout North America.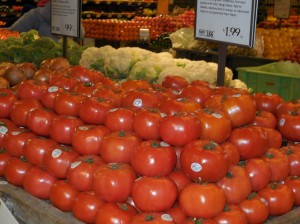 Greenhouse growing of vegetables continues to increase whether it is in Mexico, the U.S., or in this case Ontario.  It's popularity is rising, not only because weather conditions can be controlled, but the product itself is ususally better tasting, especially with something like tomatoes.  Ontario does have loading opportunities for produce haulers, although we are not normally talking in truck load quantities.
Most of the Ontario greenhouse vegetables are located along the northern shores of Lake Erie, including the towns of Leamington and Kingsville.  The reason is this area receives more sunshine than anywhere else in Canada.
The leading green house vegetables are tomatoes, English cucumbers and peppers.  This year it is estimated Ontario will ship 448 million pounds of tomatoes, an increase of nearly 18 percent over last year.  There should be 250 million pounds of English cucumbers (nearly 23 percent more) and 170 million pounds of peppers, up nearly 31 percent.
There also is much smaller volume with eggplant and specialty peppers and specialty tomatoes.
About 70 percent of the Ontario greenhouse veggies are shipped to the U.S.
While the cukes, peppers, and egglant are compatible for loading together in a truck, the tomatoes are not a good fit.  That's too bad since volume wise at any one time, greenhouse tonnage is relatively low, even though it continues to increase.
If you ever want to check out what fruits and veggies are good for putting on the same truck, check out the Fresh Produce Mixer & Loading Guide from TransFRESH Corp.  These are the same folks that provide the Tectrol atmosphere that adds shelf life to strawberries and other products, which helps to maintain quality.
To check this info out, just click on the TransFresh ad on this website.