Posts Tagged "Hurricane Florence"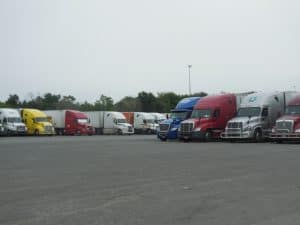 News has been sketchy so far, but The North Carolina Department of Agriculture and consumer estimates Hurricane Florence inflicted over $1.1 billion in damage to crops and livestock in North Carolina.  Of that, about $27 million is damage to sweet potatoes, other vegetables and horticultural crop losses.  North Carolina ships more sweet potatoes annually than all of producing states combined.
The numbers easily top the $400 million seen following Hurricane Matthew in 2016.
"We knew the losses would be significant because it was harvest time for so many of our major crops and the storm hit our top six agricultural counties especially hard," Agriculture Commissioner Steve Troxler said in the release. "These early estimates show just what a devastating and staggering blow this hurricane leveled at our agriculture industry."
According to the state's agricultural department:
Row crop losses are estimated at $986.6 million
Forestry losses are estimated at $69.6 million
Green industry losses are estimated at $30 million
Vegetable and horticulture crop losses are estimated at $26.8 million
Livestock, poultry and aquaculture losses are estimated at $23.1 million
Livestock losses are 4.1 million poultry and an estimate of 5,500 hogs.
The state did not make damage estimates by individual commodities.
Sweet potato growers and shippers report it could be months before the full extent of losses may be determined.  Sweet potato harvest in the state continued September 27th after Florence, with more than half of the crop remaining in the field.
Prior to the massive Hurricane and flooding, Nash Produce LLC of Nashville, NC expected sweet potato acreage to be down.
Southern sweet potato shipments has been declining in recent years primarily due to overproduction and poor markets.
U.S. sweet potato acreage in 2017 was down 2.45 percent compared to 2016, although yield per acre increased 16 percent.  No official estimate has been made for acreage or volume for 2018.
J Roland Wood Produce Co. of Benson, NC expects a 10 percent reduction in yields this year as a result of a decrease in acreage after last year, plus several weeks of dry weather before Florence.  The company had a 20 percent cut in yields from last year, totaling a 30 percent reduction in yield rate from 2017.
Ham Produce Co. Inc. of Snow Hill, NC had been harvesting a few weeks when Florence hit.  SMP Southeast/Edmonson Farms of Vardaman, MS started harvesting in the last half of August. While quality was described as having very good quality, volume still wasn't expected to equal last year.  However, total shipments by the company were expected to be adequate to fill customer demand.
Bland Farms of Glennville, GA was expecting the company's volume to be similar to last year.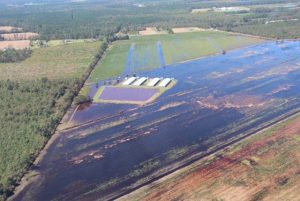 Damage resulting from Hurricane Florence could cut North Carolina sweet potato shipments by as much as 35 percent, at least with one early estimate.  Better estimates may not be available for weeks.
Vick Family Farms of Wilson, N.C  was expecting to resume the week harvest the week of September 24th when fields should dry.  The grower-shipper had completed harvesting about 35 percent of its crop before the massive storm hit.
Farming operation near Wilson, N.C., received about 10 to 12 inches of rain, while southern and southeastern parts of the state east of Wilson received 30 to 40 inches of rain. The farm and packinghouse never lost power.  The Vick operation is guessing it has lost 25 to 35 percent of its production, while growing regions south and east potentially suffering greater damage.
The North Carolina sweet potato harvest usually finishes harvest by November or when there is a heavy frost.  Thus, how much of the crop is harvested will affect volume this season.  Whether post hurricane harvested sweet potatoes will have good storage quality is another concern. Effects from the hurricane are expected to be felt for the next 12 months.
Product harvested prior to Florence has been cured and is being shipped.
The USDA reports season-to-date shipments of North Carolina sweet potatoes totaled only 200,000 pounds through September 15th, off from 7.8 million pounds the same time a year ago.
Nearly all U.S. sweet potatoes are shipped by truck and for the 2017 shipping season North Carolinas accounted for 72.9 percent of the volume, Mississippi 11.7 percent, California 11.6 percent and Louisiana 3.8 percent.