Posts Tagged "IFCO"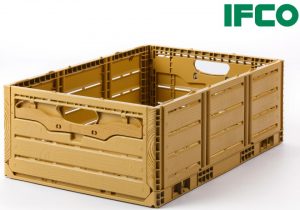 Over 11 million wood-grain reusable plastic containers have been shipped by IFCO since entering the market in January.
More than 300 growers have placed orders that are destined for Wal-Mart stores with fresh produce, according to a news release.
"We are proud to partner with Wal-Mart and its fresh produce suppliers to provide them with innovative, efficient, cost-effective and sustainable reusable packaging that transitions easily to in-store display," Daniel Walsh, president of IFCO North America, said in the release. "Surpassing the 11 million wood-grain RPC threshold so quickly is an impressive accomplishment made possible through strong collaboration between Wal-Mart, the grower community and IFCO."
After reaching an agreement with Wal-Mart in October of 2015, IFCO designed the RPCs to the retailer's specifications and also took into account feedback from growers.
"Wal-Mart chooses to use wood-grain RPCs to deliver produce for a variety of reasons," Shawn Baldwin, senior vice president of produce, floral and global food sourcing for Wal-Mart USA, said in the release. "They have better ventilation, they're ergonomically designed and very easy to use, and our customers really like the new wood-grain RPCs because they look more like a farmers market or roadside fruit stand, which provides a level of comfort during the shopping experience."
About IFCO
IFCO Systems North America, Inc. designs, develops, and manufactures reusable plastic containers for fresh products, including fruits and vegetables, meat, eggs, and bananas to grocery retailers in North America. IFCO Systems North America, Inc. was formerly known as PalEx, Inc. and changed its name to IFCO Systems North America, Inc. in March 2000. The company was founded in 1996 and is based in Houston, Texas. As of March 22, 2000 IFCO Systems North America, Inc. operates as a subsidiary of Ifco SYSTEMS N.V.
IFCO offers the complete RPC solution, managing all aspects of container logistics:  pool management, inventory, tracking, repair, sanitation and transportation.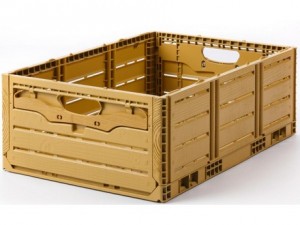 By IFCO
Tampa, Florida – IFCO, the leading global provider of reusable packaging solutions, has announced the company's new, innovative Wood Grain Reusable Plastic Containers (RPCs) have entered the produce supply chain and the first of an anticipated 30 million Wood Grain Reusable Plastic Containers (RPCs) have been shipped to fresh produce growers as partial fulfillment of an agreement reached between IFCO and Walmart. Kings River Packaging of Sanger, California, was the first Walmart supplier to receive IFCO Wood Grain RPCs.
"We were delighted to be the first Walmart supplier to receive Wood Grain RPCs," said David Hines, President of Kings River. "These RPCs represent everything we've come to know and appreciate about IFCO RPC quality. The IFCO Wood Grain RPC features of additional vertical ribbing and enhanced latching are first-rate, and detailed wood grain texture really looks great. We think the retail customer will love it once in store."
Last October, IFCO and Walmart announced IFCO will supply the world's largest retailer with newly designed Wood Grain RPCs for its wet and dry produce, initially including apples, potatoes, onions and citrus items.
"Walmart customers deserve the very best shopping experience," said Dorn Wenninger, Vice President of Produce for Walmart U.S.  "That means the best possible quality at the lowest possible price. Wood Grain RPCs are one of many changes we're making to improve our overall fresh produce customer experience."
IFCO has invested millions of dollars in the development of its Wood Grain RPCs.  They have undergone extensive, months-long real world and laboratory testing to verify their functionality and product protection capabilities.  They were designed to Walmart specifications and incorporated feedback received from the grower community. IFCO's Wood Grain RPCs are the product of decades of manufacturing expertise and superior industrial design, brought to market in record time.
"IFCO has designed an innovative and unique fresh produce packaging solution that benefits growers, retailers and ultimately consumers," said Daniel Walsh, President of IFCO North America. "Wood Grain RPCs have all the benefits of traditional RPCs with aesthetic appeal that helps them transition seamlessly from transportation and storage to in-store display."
IFCO's RPCs are more efficient, protect and cool product better and are more environmentally sustainable than one-way packaging.
IFCO has a strong commitment to supporting local economies, local companies and local workers in the marketplaces where it does business whenever possible.  In the United States, IFCO's Wood Grain RPCs are 100% sourced and manufactured in America and meet the Federal Trade Commission's standard for its "Made in the USA" country of origin label.  In addition, IFCO Wood Grain RPCs are cleaned and sanitized at one of six US service centers throughout their life cycle.
If you haul produce for the supermarket chain Safeway, you may have noticed
fresh fruits and vegetable being hauled are loaded into your refrigerated trailer using reusable product containers (RPCs).  The chain's press release states it allows more product to be loaded into the trailer.  It does not address the question of whether this adds more weight to the load, and if so, whether the truck is paid more for that additional weight (yeah, right!).  Regardless RPCs are good for the envirnoment.  Here's the Safeway press release and you can decide for yourself.
                                                                   **********
Safeway Inc. announced that it has transitioned to using reusable product containers rather than corrugated boxes to ship many types of produce from the farm fields, through the distribution channel and to final store destination. This transition eliminated the use of over 17 million pounds of corrugated boxes.
RPCs can be stacked higher and more densely than traditional boxes, allowing for more efficient shipping and requiring fewer trips to transport the same amount of product. This, in turn, decreases trucking emissions and traffic volume.
Safeway, which has introduced a broad range of successful sustainability practices across its operations, has used RPCs for decades on many of its consumer brand categories, including bread, milk and soda. The company began testing RPCs in its distribution system for fresh wet-pack produce — fruits and vegetables kept on ice until they reach the store — in early 2010.
Making the transition for produce was a more complicated process than for other products because, to make it effective and decrease cardboard usage, Safeway's distributors and grower partners also had to commit to the switch. The transition continued throughout 2011.
Today, many types of produce travel from the field to the distributor to Safeway's product distribution centers and to the final store location in RPCs. The company's major supplier of RPCs, IFCO Systems, said that Safeway's implementation of RPC usage to decrease waste was the fastest and most aggressive program rollout to date.
Safeway's vice president of transportation, Tom Nartker, said that employing environmentally friendly methods of product distribution is part of Safeway's overall commitment to sustainable business practices.
"This expansion into produce is a natural extension of best practices in logistics," Mr. Nartker said in a press release. "Safeway will continue to look for opportunities to expand the usage of RPCs into additional categories to have an even greater positive environmental impact."
The use of reusable, sustainable containers not only keeps non-recyclable shipping containers out of the supply chain, but it also has an even greater positive environmental impact.
According to Safeway, the positive environmental effects include eliminating the use of over 17 million pounds of corrugated boxes, avoiding the harvesting of approximately 114,000 trees and reduced emissions of 37,518 metric tons of greenhouse gas emissions from the environment, equivalent to removing 6,872 passenger cars off the road.