Posts Tagged "Mann Packing"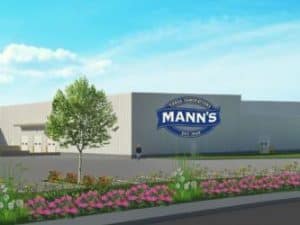 by Mann Packing Company
SALINAS, Calif. – Mann Packing,  an industry leading supplier of premium fresh vegetables, broke ground in August on its new processing facility in Gonzales, California. The groundbreaking ceremony featured company representatives, local government officials and business leaders.
Headquartered in Salinas, California, Mann's selected the City of Gonzales for its 130,000 square foot expansion project because of its convenient location and zoned industrial area.  The company has a further land base at the same location to accommodate future expansions. 250 people will be employed at the new facility.
Sixty-five percent of the company's manufacturing volume will relocate from Salinas to the Gonzales facility. Mann's location at 1250 Hansen Street in Salinas will continue to process fresh-cut vegetables, but will mainly serve as the company's central warehouse, cooling and shipping facility.
Construction of the facility is targeted for completion in early 2018, with production beginning in spring. The facility was designed with the goal of achieving electric sustainability and will utilize a windmill turbine to supply energy for heating and cooling.
"We are proud to announce our new home in Gonzales and excited to be part of this thriving business community," said Lorri Koster, chairman & CEO at Mann's. "This project represents the beginning of a partnership and a culmination of years of planning to create a facility which will serve as an anchor for the company's fresh processing needs," she added.
About Mann Packing Company
Founded in 1939, Mann Packing is an industry leading, third-generation supplier of premium fresh vegetables. Headquartered in Salinas, Mann's is one of the largest suppliers of western vegetables, Broccolini® and sugar snap peas in North America. The firm holds the distinguished Women's Owned Business Certification from the Women's Business Enterprise National Council – the most widely recognized and respected certification in the United States for women's business enterprises. Leading the way in product innovation, environmental sustainability and green supply chain management practices, Mann Packing is consistently vigilant in food safety, employee wellness and quality assurance, making for one of the most trusted brands in the industry.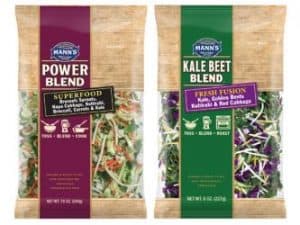 by Mann Packing Co., Inc.
SALINAS, Calif. – Mann Packing announced a partnership with the California Walnut Board for two of its innovative Vegetable Slaw Blends: Power Blend and Kale Beet Blend.
The promotion includes $1.50 off per pack of slaw when any 7.5oz or larger package of California walnuts is purchased. The promotion will run for two weeks from the end of July through mid-August.
"Recognizing California walnuts' versatility and variety of health benefits, a partnership featuring our slaw blends is a wonderful opportunity to boost summer sales," said Gina Nucci, director of corporate marketing at Mann's. "Mann's is committed to collaborating and creating a synergy with organizations like the California Walnut Board, and we look forward to working with them to complement each other's strengths," she added.
California Walnuts was established in 1948 and represents over 4,800 walnut growers and more than 90 walnut handlers in California.  One of the Board's key efforts is promoting the usage of walnuts across the U.S. through advertising, publicity and educational programs.
"Walnuts are a perfect ingredient for summer salads and we are delighted to partner with Mann Packing on this Summer Slaw promotion," said Michelle Connelly, executive director of the California Walnut Board.  "Additionally, the combination of these superfoods packs a delicious punch of nutrition."
Additional promotions will be available at Safeway, Albertsons, Meijer, Wakefern, Raleys, Schnucks, and Giant Eagle, among others.
About Mann Packing
In the late 1930's, when the United States was beginning to recover from the Great Depression, a young Stanford graduate came to California's Salinas Valley seeking employment. H.W. "Cy" Mann began his career trimming fruit and lettuce for 40¢ an hour. In 1939, he opened a fresh carrot packing operation and a business was born. From day one, Mr. Mann built a reputation for honesty and integrity—one that remains with us today.
In 1976 Bill Ramsey and Don Nucci joined Mr. Mann as partners in the company. Today, the Nucci and Ramsey families lead the firm which now spans three generations. They are a majority women-owned and operated business, and one of the country's leading suppliers of fresh vegetables, including its proprietary Broccolini® product and award-winning Stringless Sugar Snap Peas.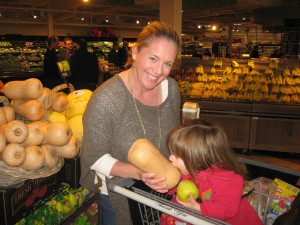 By Mann Packing
As part of the company's "moms helping moms" initiative, Mann Packing Company of Salinas, CA created the Girlfriends Guide for Moms electronic brochure for distribution this summer.
The Girlfriends Guide for Moms is available free online via Mann's Facebook page and via links tweeted from the @veggiesmadeeasy Twitter account.
The Girlfriends Guide for Moms was created to provide moms with summer recipes in one printable brochure so they can serve a great meal and enjoy summer at the same time, said Gina Nucci, director of healthy culinary innovation.
Nucci also wrote a personal note as part of the brochure.
"We want to let our fellow moms know that we understand the challenges of balancing kids' activities, work, household chores AND putting a meal on the table every night," Nucci said.  "This guide has some of our favorite recipes featuring easy-to-make healthy items with Butternut Squash, Broccolini®, Sugar Snap® Peas and Broccoli Slaw."
Further plans include two additional editions of the Girlfriends Guide to release in the late summer and early fall.
For more information about Mann Packing, please visit www.veggiesmadeeasy.com.
About Mann Packing Company
Mann Packing Company, Inc., located in Salinas, Calif., is one of the world's leading suppliers of fresh vegetables. Mann Packing Company is certified as a women's business enterprise through the Women's Business Enterprise National Council (WBENC), the nation's largest third party certifier of businesses owned and operated by women in the US. We encourage the commitment to supplier diversity that is embraced by corporations and government agencies today