Posts Tagged "mushroom shipments"
Mushroom shipments look good for the first quarter of 2018, which will be an improvement, at least for some areas of the country….Meanwhile, the forecast for Florida citrus shipments takes another hit.
Shipments of mushrooms from Texas and Florida should be better this year as the region has recovered from hurricane damage last fall.  While mushrooms are grown indoors, production still depends on the quality of compost, which is grown outside.
As long as growers don't have to deal with frozen compost, a relatively mild fall has led to improved conditions.   At the same time companies such as Oakshire Mushroom Farm of Kennett Square, PA, which markets mushrooms under the Dole label, see adequate labor as a continuing problem, like other operations, because mushrooms are a very labor-intense crop.
Monterey Mushrooms Inc. of Watsonville, CA also anticipates an good crop for early 2018.  The company has 10 farms strategically located around the United States and Mexico and it  makes its own compost.
White mushrooms still constitute most mushroom shipments, but brown mushrooms continue to gain.  Ten years or more ago, white mushrooms represented over 90 percent of shipments.  That has now shrunk to about  70 percent, because baby portabellas are still increasing in popularity.  Portabellas have been fairly stable, accounting for around  6 to 7 percent of total volume.  Specialty mushrooms, particularly shiitake and oyster, also are gaining in volume. 
Florida Citrus Shipments
45 million boxes of oranges from Florida are predicted to be shipped, down 2 percent from the USDA January forecast.
The 2017-18 crop will be the smallest in over 75 years, assuming the estimate is accurate.   Hurricane Irma devastated much of the production in the state when the storm hit last September, compounding the low production numbers caused by citrus greening disease.
The current crop projection is off 35 percent from the 2016-17 season.
The forecast for valencias is now 26 million boxes, down 4 percent from the January estimate.The projections for non-valencia oranges and grapefruit are unchanged at 19 million boxes and 4.65 million boxes, respectively.
Before the hurricane, private estimates suggested Florida was set to produce 75 million boxes of oranges this season.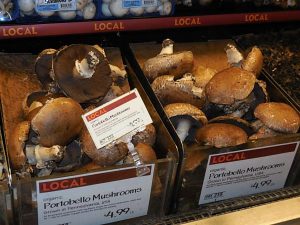 Mushroom shipments have been hit by high temperatures and dry conditions, resulting in lower volume and shortages across the country.
The greatest impact has been felt in southeastern Pennsylvania, where 64 percent of U.S. mushrooms are grown, according to a news release from the Avondale, PA.-based American Mushroom Institute.
The weather's impact on the compost used to grow mushrooms has many across the industry worried. Some veteran mushroom growers who have been in the business over three decades have never been this concerned heading towrds the holiday season.  
Many farms are reporting reduced yields, and some shippers have struggled to fill orders. Shortages are expected nationwide as demand for mushrooms increases with the holiday season.
Concerns are mounting that all the orders for the product can't be met and that shipments to retailers and other customers may have to be rationed. 
With demand outpacing supply, growers are doing their best to get customers the product they need, but it is expected that fulfilling orders is going to be difficult.
"You've just got to share the love evenly with everyone because there's just nowhere to get extra product," stated one grower. "It's just not available … Any other time you could work sideways and barter and trade back and forth, but that won't be able to happen much this season because everyone's in the same situation."
Quality of the mushrooms also has been affected along with quantity.
"There hasn't been a whole lot quite up to par from what I'm seeing,  When the compost is weak you can then get blotch … which causes spotting on the mushrooms that sometimes you can't see when you harvest the mushroom but it shows up later, by the time it gets shipped to the customer, the grower stated."
At various times 30 Pennsylvania counties have been in a drought watch, which has affected mushroom growers.
Mushroom loadings increased in the United States during the past year.  Additionally, looking at other types of shipments, here are updates on California grapes and Pennsylvania apples.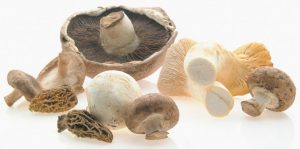 Mushroom shipments increased during the 2015-16 season, with about 946 million pounds of mushrooms were moved in 2015-16.  This was a 2 perecent increase for the pervious season, according to the USDA.
The value of this season's crop, at $1.19 billion, was down less than 1 perecent from 2014-15, while the average price for mushrooms in 2015-16, $1.26 per pound, which was two cents lower than the season before.
About 346 producers grew mushrooms in the U.S. in 2015-16, 12 fewer than the year before.
Agaricus mushroom volumes in 2015-16 totaled 922 million pounds, 2 percent more than the season before.   As has historically been the case, Pennsylvania accounted for 64 percent of total shipments with California a distant second at 12 percent.
The agaricus crop was valued at $1.1 billion, down 2 percent from 2014-15.  About 165 million pounds of portabello, crimini and other brown mushrooms were shipped this season, 3 percent more than last season.
The specialty mushroom category, which includes shiitakes, oysters and other varieties, registered the biggest value gain by percentage in 2015-16.  Specialty sales rose 30 percent this season to $95 million. The average price, $3.94 per pound was up 40 percent.
California Grape Shipments
California grape shipments  are comparable to last year at the same time.  Through August 27th, about 1.78 billion pounds of grapes had been shipped in the U.S. for the season, down from 1.88 billion pounds last year at the same time.
In the week ending August 27, about 74 million pounds shipped, down from 82.5 million pounds in the same week last year.
San Joaquin Valley grapes, stone fruit and tomatoes – grossing about $5000 to Atlanta.
Pennsylvania Apple Shipments
Pennsylvania apple shipments should be normal, putting it at around its five-year average.  This is approximately 10 million bushels.  Harvest started the third week of August in most areas of the state and should be finished by early November.  Pennsylvania has about 275 growers.