Posts Tagged "Organic Trade Association"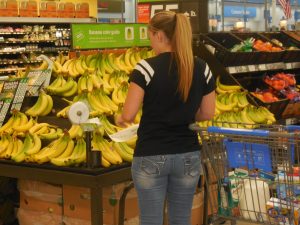 Organic produce sales displayed a strong increase in 2016 after sales had cooled a bit the previous year.
The Organic Trade Association's 2017 Organic Industry Survey showed an 8.4 percent increase compared with the previous year as organic fruit and vegetable sales increased to $15.6 billion in 2016.
In a comparison, organic fruit and vegetables sales in 2015 were $14.4 billion, up 10.5 percent.  The fruit and vegetable sector accounted to nearly 40 percent of all organic food sales in 2016, and the 8.4 percent growth rate compares with the overall 3.3 percent gain for total fruit and vegetable sales.
Fresh produce has generally accounted for about 90 percent of the organic fruit and vegetable sales.  The balance of  sales is with canned, frozen, or dried organic fruits and vegetables.
The OTA survey, produced in February and March by Nutrition Business Journal for the Organic Trade Association, noted organic fruits and vegetables now make up almost 15 percent of the produce that Americans eat.
The OTA survey places overall organic food sales at $43 billion, up $3.3 billion or 8.4 percent higher compared with the previous year. That is well above the nearly flat 0.6 percent growth in total food sales, according to the release. The survey shows organic food now accounts for 5.3 percent of total food sales.
"The organic industry continues to be a real bright spot in the food and ag economy both at the farm-gate and check-out counter," Organic Trade Association CEO and executive director Laura Batcha said in a news release.
Batcha said there are challenges to the category's growth.
"We need more organic farmers in this country to meet our growing organic demand, and the organic sector needs to have the necessary tools to grow and compete on a level playing field," she said. "That means federal, state and local programs that help support organic research, and provide the organic farmer with a fully equipped tool kit to be successful."
The survey numbers from the organic association differ widely from the United Fresh Produce Association's FreshFacts on Retail report, which pegged organic produce sales at retail (not including processing or foodservice outlet sales) at $4.46 billion in 2016, up 13.2% from 2015. Additionally, the United Fresh numbers — from Nielsen Fresh — said organic sales in 2016 accounted for 9% of all fresh produce sales. The 9% organic market share number from FreshFacts is 40% below the OTA's 15% estimate for organic's share of the produce market.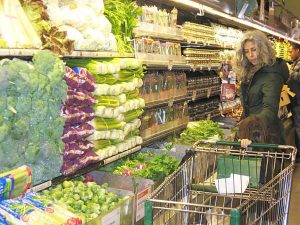 by Organic Trade Association
Americans are gobbling up more organic fruits and vegetables than ever before, from organic blueberries and organic apples to organic packaged greens and cut-up organic vegetables ready for their children's lunch box or their family's dinner plate.
Over half of all households in the United States now purchase organic produce. The sale of organic bananas alone – now a $165 million market – soared by more than 30 percent last year. Organic "value-added" vegetables (think chopped kale, peeled carrots and ready-to-cook squash) grew by a whopping 54 percent in 2015 to almost $150 million.
What's big in the organic produce sector? A few standouts in the produce section:
Organic bananas: Sales up a solid 33 percent from a year ago.
Organic blackberries: Sales up a sharp 61 percent from a year ago.
Organic salad greens and organic baby carrots: Sales of each up 11 percent versus a year ago.
Organic Pink Lady Apples: Sales almost double (up 96 percent) that of a year ago.
"The organic produce market is growing and strong, and it is driving trends in produce innovation across the board," said Laura Batcha, Executive Director and CEO of the Organic Trade Association (OTA) recently at the first-ever Organic Produce Summit, held in Monterey, California.
Digging deep into the produce aisle, Batcha gave a State of the Organic Produce presentation on Thursday, unveiling the findings of a report on the produce-buying habits of Americans compiled for the Organic Trade Association by Nielsen, the global information and measurement company.
According to the OTA 2016 Organic Industry Survey released in May, fresh organic produce sales in the U.S. reached $13 billion in 2015. (Total sales of organic fruits and vegetables, including fresh, frozen and canned, amounted to $14.4 billion.) The $13-billion market includes $5.7 billion worth of organic produce sold in the mass market (supermarkets, big-box stores, warehouse clubs), $4.7 billion sold by specialty and natural retailers, and $2.7 billion in direct sales (farmers' markets, CSAs, online).
Nielsen measures organic sales primarily from the mass market, and puts organic produce sales at $5.5 billion. The Nielsen figures do not include specialty and natural retailers, nor direct sales. Further, Nielsen's data reflect grocery coding systems, which are based on retailer description and in which organic can be under-represented.
The Nielsen figures, however, delve down to the specific types of organic vegetable or organic fruit sold, providing detailed information on the buying habits of consumers in the major category of supermarkets and big-box stores.
Since 2011, the sales of produce in this country have increased over 25 percent. Convenience, a greater awareness of the health benefits of produce, and an increased interest in local food sources largely contributed to the increase. And driven by the desire to improve upon already healthy food choices, organic fruit sales have soared 123 percent during that time, while organic vegetable sales have jumped by 92 percent.
The U.S. organic industry saw its largest dollar gain ever in 2015, adding $4.2 billion in sales. Total organic food sales in the U.S. were $39.7 billion, up 11 percent from the previous year. Organic produce sales accounted for 36 percent of the organic market. Almost 13 percent of all the produce sold in the United States now is organic.
The Nielsen findings showed that today's organic produce shopper tends to be more kid-focused than the average produce shopper, and that the huge majority of these enthusiastic organic produce buyers – 77 percent – are going to their favorite grocery store or supermarket chain to buy their organic fruits and vegetables.
The Organic Trade Association (OTA) is the membership-based business association for organic agriculture and products in North America. OTA is the leading voice for the organic trade in the United States, representing over 8,500 organic businesses across 50 states. Its members include growers, shippers, processors, certifiers, farmers' associations, distributors, importers, exporters, consultants, retailers and others. OTA's Board of Directors is democratically elected by its members. OTA's mission is to promote and protect ORGANIC with a unifying voice that serves and engages its diverse members from farm to marketplace.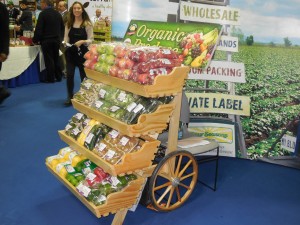 About 12% of all produce sold in the U.S. is organic, according to a new study — almost double the amount found in another study.
SPINS, a market research firm for the organic and natural foods industry, arrived at the 12% figure through analysis of IRI Shopper Network bar code data from 100,000 U.S. households, according to a news release from the Washington, D.C.-based Organic Trade Association.
The SPINS figure is significantly higher than FreshLook Marketing retail scan data, which found that organic accounts for 6.9% of total produce sales.
Dick Spezzano, president of Monrovia, CA.-based Spezzano Consulting, said he's never heard a number as high as 12%.
At some of the specialty retailers Spezzano works with, up to 15% of their produce is organic, but at more conventional retailers the numbers are lower.
"Safeway's goal is 10% — some of their stores are 8%, some 12%. Kroger is about 8% or 9%, and I'm guessing Wal-Mart is lower than that."
But double-digit annual growth in organic produce sales is real, Spezzano said, and within about two years, the 12% share could be reality. Growers are getting better at growing organic, he said, and as a result, the price gap between organic and conventional is shrinking.
Earl Herrick, owner and president of Earl's Organic Produce, San Francisco, can only guess at organic's share of total produce sales, but he does know business is booming.
"Eight percent, 10%, 12% — what do I know? But we definitely agree that the market is vital, strong and continues to grow."
Earl's has enjoyed 15% annual growth in recent years, Herrick said.
New SPINS data also claims that all categories of organic food accounted for nearly 5% of total U.S. food sales.
Organic produce sales account for more than 36% of all organic food sales, according to SPINS. Organics' share of all produce sales has more than doubled in the past 10 years, according to SPINS.
Organic food sales totaled $35.9 billion in 2014, 11% more than the year before, according to a new Organic Trade Association survey conducted by Nutrition Business Journal.
Between 68% and 80% of households in U.S. southern states and almost 90% of households on the West Coast and in New England purchased organic in 2014, according to the survey.
More than 200 companies responded to the survey, according to the association.