Posts Tagged "pumpkins"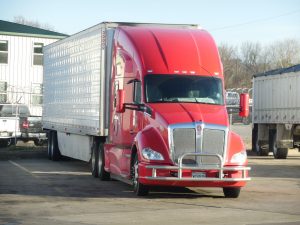 Favorable weather across much of the United States is resulting in good loading opportunities for pumpkins and other fall items.  Meanwhile an update on California grape shipments shows the best is yet to come.
Pumpkins are grown in almost every state and shippers in most areas see a good crop of pumpkins and hard squash for the upcoming season. Since these items are grown in so many states, most loads are regional or local.
While pumpkins are an American Halloween tradition, good volume typically occurs after after October 31st.   Pumpkin shipments typically are brisk following Halloween as Americans prepare for Thanksgiving.
For example, Frey Farms in Keenes, Ill., started shipping its fall pumpkins the last week of August. Besides regular pumpkins, the company sells painted pumpkins as an in-and-out item and pumpkin tattoo kits – food-safe transfers that enable consumers to "paint" a pumpkin in a minute.
Van Groningen & Sons Inc. Manteca, CA starts shipping pumpkin and ornamentals around Labor Day.
Todd Greiner Farms of Hart, MI began shipping  pumpkins, squash and ornamentals in late August.
Jackson Melons Inc., of Henderson, TX will start shipping carving pumpkins right after Labor Day.
Pumpkin Pyle of Floydada, TX  is shipping pumpkins, squash and ornamentals, which will continue through until about October 20th.
California Grape Shipments
The California table grape shipments continues through the summers and by season's end at the end of the year, maybe January, is projected at 111.4 million 19-pound boxes.
California grape  shippers loaded 108.9 million 19-pound box equivalents, about 40 percent of which was moved from May through August.  With the end of August, 60 percent of the overall crop had been shipped in 2016, but the season should last into January.
Over 85 varieties are grown in California, with the leading varieties being scarlet royal, autumn king, flame seedless, crimson seedless and sugraone.  About 93 percent of the state's grapes are seedless.
With California grape crop in 2016, 36 percent of the fruit was exported, mostly to Canada, Mexico, China, the Philippines, Taiwan and Japan.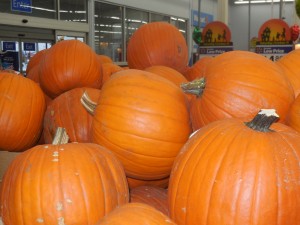 Canned pumpkin has become scarce in supermarkets in Illinois.  This is a huge concern for Thanksgiving.
Nestlé, whose Libby brand of pumpkin filling is the largest in Illinois, has said their yields of sugar pumpkins have declined as much as a third this year, due to the amount of rain in the summer.   Pumpkins require 90 to 120 frost-free days and, since they are a warm-season annual, are harvested from September through October.
Once Nestlé ships all their canned pumpkin, used specifically for pies, they will not have any to distribute until the new year.  However, there is concern that the issue may be more long-term and there may also be a shortage in 2016.
Illinois is, by far, the top sugar pumpkin producing state in the nation, with more than 19,800 acres harvested in 2014.
Canadian Cranberry Shipments
Amid a record season for Canadian cranberry shipments, most of Canada's cranberry production is exported to the United States.  In recent years, Quebec surpassed British Columbia as Canada's biggest cranberry producer.  New Brunswick, Nova Scotia and P.E.I. account for a much smaller share.  While the vast amount of fresh cranberries are shipped for the U.S. Thanksgiving, a relatively small amount will be for Christmas.