Posts Tagged "refrigerated containers"
New refrigerated containers have been ordered by Hapag-Loyd for export expansions…In Nogales, L&M has expanded its warehouse shipping facility.
Hapag-Lloyd is investing in 3700 refrigerated containers, which are used to ship food and other cargo around the world  Of the total, 1,000 of the units have environmentally friendly refrigeration systems.
Another 1000 will also have controlled-atmosphere capabilities specifically for fresh produce.
The Maersk Container Industry Star Cool Integrated containers are being built in Maersk facilities in China and Chile.
"Working together with (Maersk Container), we have been able to refine (controlled-atmosphere) technology to offer our ExtraFresh Plus service," said Niklas Ohling, senior director at Hapag-Lloyd, in a news release.  "his service enables even extremely sensitive fruit such as blueberries and lychees to be transported to the desired level of quality and degree of ripeness."
The new containers allows the company to expand the market reach of fresh fruits and vegetables, said Saren Leth Johannsen, chief commercial officer At Maersk Container, in the release.
****
L&M Begins Winter Season with New Facility
By L&M
L&M's Nogales location has moved and is now operating in a new, expanded facility.  The new location features over 33,000 square feet of cold storage, including 8 ripening rooms for mature green tomatoes and over 9,000 square feet of office space. This allows L&M to service up to 24 loads at one time. We are happy to offer consolidation services for our customers, as well as in-and-out service year-round.
L&M is already shipping melons, zucchini, yellow squash, hard squash, eggplant and bell peppers. Mature Green tomatoes will be available in December and cucumbers are available year-round. L&M will be adding production on eggplant and hard squash out of Culiacan, Mexico.
L&M Nogales is now located at 1450 W. La Quinta Rd. The company is a grower and shipper of fresh vegetables, potatoes and onions, with farms and offices nationwide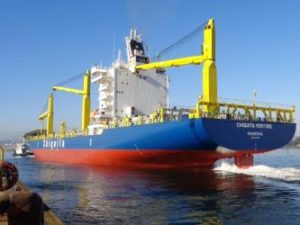 by Chiquita®
LOS ANGELES, Calif. – Chiquita North America is proud to announce its dedicated new banana shipping service and supply chain improvements to better serve its West Coast customers. The new shipping service will reduce fruit transit time by half, resulting in 4-5 days from the banana production area to the Port of Hueneme-Los Angeles, CA . This will result in better quality and fresher bananas for Chiquita's Western customers.
In addition, Chiquita has been engaged in a major refrigerated container renewal program. Since 2014, it has replaced 65 percent of its fleet to create a more sustainable shipping practices. Chiquita operates in excess of 15,000 refrigerated containers, which play a key role in the logistics of today's banana supply chain. Improvements in the design and operating efficiency of containers has led to important environmental benefits including reduced electric power consumption, greenhouse friendly refrigerants, and use of insulation materials with reduced emissions footprint.
"All of us on the North America team are excited to deliver the freshest and highest quality Chiquita Bananas available to our customers," said executive vice president of Chiquita Fresh North America Chris Dugan. "In addition to recent investment in our farms, this is another example of how we continue look for new ways to improve our freshness, our everyday quality and the satisfaction of our costumers".
The impact of this fleet renewal is substantial, giving Chiquita the opportunity to save up to 35 percent on energy compared to old units, and electricity savings of 34 million kilowatt hours and an annual emissions reductions of 17,000 tons of CO2 per year is possible – equivalent to taking over 3,000 cars off the road every year.
For additional information, please visit www.chiquita.com.
About Chiquita®
Chiquita grows, procures, markets, and sells bananas and other fresh fruits and is a leading global company with 20,000 employees across 30 countries being present in nearly 70 countries, mainly in North America and Europe. They are passionate about their nutritious, high-quality, energy-rich and value-added bananas. But they're also passionate about upholding the values which is at the very core of the company – integrity, respect, opportunity and responsibility. The company believes what they do day in and day out reflects these values, our brand and their purpose.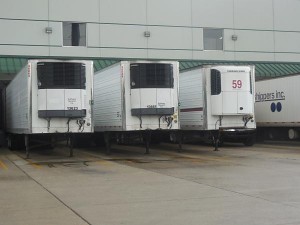 There are numerous factors that must be considered at all times to properly maintain the temperature sensitive products being transported.  Successful cold chains require planning, communication, and the right technology at every step of the journey, according to an article in the online publication, Fresh Fruit Portal.com.
People are continuously searching for a better (and often more cost effective) way to safely transport temperature controlled items around the world.
This stems from a combination of globalization, increased safety regulations, and growing customer demands.  Customers in northern regions are coming to expect the availability of fresh tropical fruit all year long.  As the world shrinks, so too does the idea of "seasonal produce" and "regional products".
This trend has led to increased maritime transportation of temperature sensitive products. Perhaps not the most recent invention, but certainly one of the most popular resources used in temperature controlled shipping are refrigerated containers. In fact, in 1980 only 33% of refrigerated capacity was containerized, whereas in 2010 this share was up to 90%, according to a study from Hofstra University.
Thanks to these containers, temperature controlled products can withstand longer transit times without spoiling and consumers around the world can experience exotic foods and goods – perhaps for the first time – without leaving their local grocery store.
For an industry that's constantly improving, the question soon becomes:   "What's next? How can we improve refrigeration technology for the changing industry?"   The answer is not necessarily in improved cooling abilities (although that certainly plays a role), but rather on the supervision and reporting capabilities of reefers.
Today's technology offers a variety of tools to not only keep products at the right temperature, but to better monitor the load – from temperature sensors and GPS tracking to self-reporting alerts for computers and mobile devices.   Smart refrigerated units even help monitor the location, temperature, humidity, and motion of shipments in real time.
Advanced tracking abilities give relevant parties advanced warning of any changes or malfunctions with the equipment. These types of notifications can help ensure necessary maintenance is performed regularly or even secure alternate capacity before a load is compromised. Unfortunately, this type of technology can be costly. Until the price tag comes down, it's important to weigh the benefits you'll receive with the expense involved.
Whether or not you decide to employ the latest technology, it's important to remember other tried and true methods to protect your temperature sensitive freight. From clear communication to process improvements, it is critical to encompass all involved parties in any changes. At a minimum, this should include carriers, vendors, providers, and receivers.
Like the rest of the transportation industry and the world at large, temperature controlled shipping is changing. Technology plays a large role in the dynamic changes we're already seeing and will continue to see for many years to come. It wouldn't be surprising if in the near future there will be the ability to regulate the temperature of refrigerated equipment from mobile devices as easily as changing the thermostat at home.