Posts Tagged "Sunions"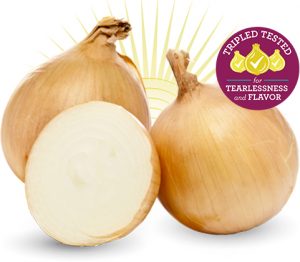 By Sunonions
PARMA, ID – It's official: Sunions are a phenomenon.  It's a rave. America's first tearless and sweet onion hit retail shelves across the United States last December to accolades from consumer media nationwide. In just the first two months of what is the first season in wide distribution, Sunions reached more than one billion media impressions and counting in print, radio, web and television media including appearances on ABC's The Chew and Good Morning America.
Consumers are responding to the buzz all across the country and visiting their local stores looking for Sunions. Along with dozens of questions regarding availability fielded through the Sunions website, messages streaming in from shoppers who put Sunions to the test demonstrate an overwhelmingly positive response.
"Just tried your onions. They are the best – I'm so surprised," said one shopper. "I have bought 'sweet onions' before and was always disappointed. I couldn't believe the taste! I hope I can always get them."
"Just bought some and the statements are true," said another shopper. "I sliced it up and there was a very strong onion odor but no tears and no bite! I buy a lot of onions and these will be on my list – good product."
A game-changing product of more than three decades of research, development and natural hybridization by Bayer Crop Science, Sunions are a long-day sweet onion variety grown in the USA. But unlike other long-day onions, Sunions actually become sweeter and more tearless in storage.
It all comes down to the levels of volatile compounds responsible for pungency and tearing in onions. The levels of those compounds in other onions remain stable or increase during storage. In Sunions, these compounds do the exact opposite and decrease in prevalence to create a milder, sweeter and tearless onion over time. This natural process also promotes a strong level of consistency from bulb to bulb.
Unlike any other onion variety, a sensory panel with full authority and power to determine ship dates follows a tightly-controlled protocol that includes both flavor and tearlessness. Sunions will ship only once they are certified ready by this panel of tasting experts and with the support of a food lab test determining the proper levels of volatile compounds.
Sunions are marketed and distributed exclusively by Generation Farms, Onions 52 and Peri & Sons Farms.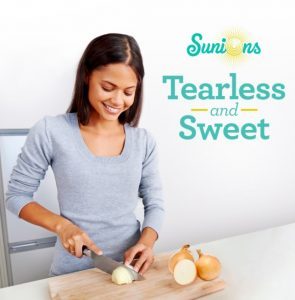 Sunions is being touted as America's first tearless sweet onion and it made its debut recently at the at the Produce Marketing Association's Fresh Summit convention and exhibition in New Orleans.
Developed by Bayer Crop Science, the variety will soon be shipped to retailers, backed by an extensive marketing plan.
Sunions are marketed and distributed exclusively by Generation Farms. Lake Park, GA.; Onions 52. Syracuse, Utah; and Peri & Sons Farms, Yerington, Nev., according to a news release.
"This onion is the product of more than 30 years of research and development to produce an onion that actually decreased in pungency during storage," Sunions breeder Rick Watson said.
A sensory panel of tasting experts with the authority to determine ship dates follows a protocol that includes flavor and tearlessness. Sunions will ship only after they are deemed ready by the panel, along with lab tests showing proper levels of volatile compounds.
"We've established a strict protocol with our sensory team not to allow the release of Sunions until they reach peak flavor and tearlessness," Lyndon Johnson, crop manager for onions at Bayer Vegetable Seeds  "We want to differentiate ourselves in the marketplace with a set of stringent quality requirements to maintain our brand promise."
If the onions meet protocol, Adam Brady senior marketing manager for Golden Sun Marketing, said Sunions could be available at the start of November. Depending on supply and demand, Sunions may be marketed into March, just before the start of the Vidalia season, he said.
No more tears
Bayer researchers conducted research on the significance of tearlessness and found consumer support.
"Looking for ways to avoid tears when cutting onions is a big deal for consumers," Don Goodwin, president of Golden Sun Marketing said.  "A quick Google search will yield over 500,000 results, and YouTube videos on the topic have received more than 5 million views."
The variety faced consumer panels at both the Bayer Sensory Lab and a third-party facility in the Ohio State University's Sensory Evaluation Center, according to the release