Posts Tagged "Target"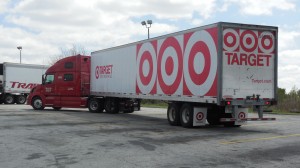 With $328 billion in U.S. retail sales, Walmart holds a dominant position as the largest retailer in the United States.
In 2012 Walmart had higher sales numbers than the second-, third-, fourth- and fifth-largest retailers combined, according to STORES magazine's annual report on the top 100 retailers in the United States. The U.S. accounts for approximately 70 percent of Walmart's $467 billion in worldwide sales.
Kroger, with more than $92 billion in sales, came in second on the list. The Cincinnati-based company operates entirely in the U.S. and saw a 6.6 percent increase in sales from 2011 to 2012.
Target, another retailer operating entirely in the U.S., came in third, with just under $72 billion in sales and a 5.1 percent increase over 2011.
Costco, another large-format retailer, came in fourth at $71 billion in sales, but it also saw a 10.6 percent increase in sales over 2011.
According to the report, supermarkets on the Top 100 list had average sales of $21.2 billion in 2012.
Safeway, based in Pleasanton, CA, had the ninth-largest sales numbers for 2012. The $37.5 billion in U.S. sales accounted for nearly 89 percent of it's global total.
A complete listing of the top 100 U.S. retailers is available at stores.org.
According Target, the Minneapolis-based chain, more perishables including meat and produce will be available in over 100 stores
beginning March 25th.  The stores will have about 10,000 square feet for perishables, and will come at the expense of reducing such areas as home and apparel and accessories.
To see the locations of stores with expansions go to Target's website for a map.
It was in 2008 the chain launched a program for groceries in its 1765 stores to provide one-stop shopping for customers.