Archive For The "News" Category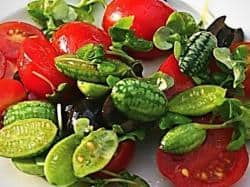 by Koppert Cress
It's a cucumber! It's a watermelon! It's…it's…Pepquiños! These unusual grape-sized veggies are back in town and better than ever!
The Pepquiño is a micro cucumber that looks like a tiny watermelon. It has a refreshingly tart cucumber / melon flavor and can be eaten whole with the skin, or sliced. They make an eye-catching cocktail garnish, an excellent pickle, or a wonderful accompaniment to a fresh fish crudo.
Your imagination is the limit!
Origin: South America
Flavor: Fresh cucumber with slightly sour flavor.
Use: Appetizers, snacks, salads or stir-fry. Can be eaten whole.
Availability: From Summer to Fall
Storage:  Store for up to ten days at 36 to 40°F.
Packaging: Tamper-evident clamshell 8 oz. (approx. 9 pieces for 1 oz.)
The micro-cucumber that looks like a tiny watermelon!
"…the world's smallest watermelon" –  NY Daily News
"Small but perfectly formed Pepquiño "micro melons", 20 times smaller than their full size counterparts" – Telegraph
" … the world's only bite-sized melon" – Slashfood
All natural, the Pepquiño is a very ancient species which makes it difficult to determine its precise origin. Our research shows that this 'micro-cucumber' was first found in South America and is actually closely related to the melon. Pepquiño can be eaten whole (with the skin), fried or pickled.
Preparation
Cress and specialties are often used for decoration purposes, however, there are so many more options. All products in the Collection are selected for their tasteful characteristics as well. These are brought to the surface when eaten 'as-is', but there are a number of techniques by which they can be used in different ways.  We present to you a number of examples on how to even better make use of the special characteristics of the cress and specialties.
Pepquino is found in retail stores in the Northeastern U.S., with lesser amounts found in Florida and other Eastern states, as well as several retailer in the mid-west and Seattle.