Posts Tagged "banana imports"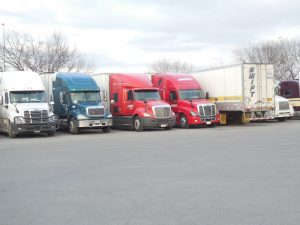 Delays in Mexican produce crossing the border, which also means in delays for produce haulers picking up product at distribution centers, is occurring at Nogales, AZ…..Also, bananas are now arriving for the first time by boat at Wilmington, NC.
Nogales is a leading port of entry for Mexican fresh vegetables, amounting to $2 billion in 2016, is having delays due in large part from a shortage of officers.
A shortage of as many ad 300 officers is reported a US. Customs and Broker Protection (CBP). The results are long lines delaying produce border crossings.
Citing security reasons the CBP doesn't reveal exactly how many officers are currently working at the gateway.  However, they acknowledge the port is rotating staff by bring in officers from other ports around the U.S. to Nogales for 90-day work assignments.  As many as 175 officers have relocated to the Nogales for temporary duty, reports the National Treasury Employees Union.
In 2016 alone, $8.3 billion worth of U.S. exports when from Arizona into Mexico.  Also in 2016, $7.4 billion in Mexican goods were imported into Arizona.
Not only is commerce adversely affected by the delays at Nogales, but travelers looking to cross the border are looking at lengthy delays.
Anthony Reardon, president of the Nogales, National Treasury Employees notes CBP's protracted and complicated hiring process, strict polygraph testing, and extensive training times are all at play when he recently testified before congress.  This has resulted in 3700 vacant positions for the agency, simply due to the 12 to 18 month hiring process.
Banana Imports at Wilmington
Bananas imported from Central America recently began arriving at the Port of Wilmington (NC).    The inital arrival marks the beginning of a 12-month commitment to bring weekly deliveries of bananas for distribution by truck to distribution centers across North Carolina and South Carolina.
Wilmington is the first South Atlantic port to implement both phases of the Department of Agriculture's Southeast In-Transit Cold Treatment Pilot program, which allows for more direct imports of produce.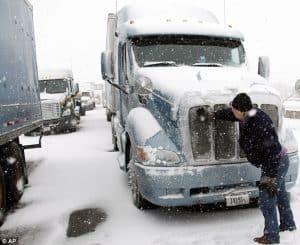 2017 had its share of bad weather conditions of different varieties that presented challenges for produce truckers.
Heavy snows early in the year resulted in collapsing buildings in the Northwest holding onions, among other items.  During the spring a Southeastern killer freeze wiped out the majority of peaches and blueberries.
On the Gulf Coast and in Florida two hurricanes were devastating.
On the positive side, winter rains eased the California drought significantly.
Citrus hauling was adversely affected with Irma causing at least $760 million in losses to citrus, with many growers losing at least half of their crop.   Vegetable and strawberry shipments also were adversely affected by Irma, but not nearly as much.
Banana imports by boat were diverted from Galveston to Florida ports after the storm.  The port of Houston remained closed for months.  The 50 inches of rain dumped on the Gulf Coast area was the most on record in the U.S. for a single storm.
In Georgia, a March freeze knocked out 70 percent of the peach shipments and an even higher percentage of blueberries.
Wave after wave of late-winter rains flooded fields, caused crop delays and played havoc with planting schedules and ultimately produce shipping schedules in California.  However, Salinas Valley produce grower and shippers were so desperate for rain they weren't complaining.
The rains brought a much-needed cleansing of the soil in the Salinas Valley by helping to leach unwanted salts below the farmed portions of the soil.  Still California needs another two or three years like 2017 to end its drought.
In January 2017 in the Treasure Valley region of Western Idaho and Eastern Oregon, two major snow storms in less than two weeks resulted in collapsing of a number of onion storage sheds and other structures.  At least eight onion companies lost one or more buildings, while at least five had three or more cave in.