Posts Tagged "Big Idaho Potato Truck"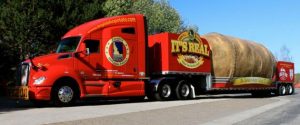 BOISE, Idaho — The Big Idaho® Potato Truck is back on America's highways promoting Idaho's most famous agricultural product, the Idaho® potato. In just six months, the Truck will log 23,000 miles, stop in more than 60 cities both large and small and be photographed millions of times by spud lovers across the country. The Truck's popular "A Big Helping" charitable program will continue to support local non-profits across the country."When we launched the Truck six years ago, it was intended to be a one year campaign. Instead, the Truck became an overnight sensation – reminding consumers at every turn to look for the 'Grown in Idaho®' seal, which is prominently featured on the side of cab," explained Frank Muir, President & CEO, Idaho Potato Commission (IPC). "We placed several other graphics on the Truck to communicate important key messages such as the Idaho® potato's certification by the American Heart Association as a heart-healthy food; the Famous Idaho® Potato Bowl logo, the premier cold-weather college football bowl game; Spuddy Buddy, the Idaho® potato mascot; and important nutrition facts."
The Tour
The Truck's first national appearance is the International Cherry Blossom Festival in Macon, GA. Other stops throughout the summer include the Memorial Day Parade in Washington, DC., the Potato Chip Festival in Saratoga Springs, NY and the NASCAR Pocono Raceway Cup Series. To view the entire calendar visit www.bigidahopotato.com
The Truck
The Big Idaho® potato weighs more than 6 tons (the equivalent of 32,346 medium-sized Idaho® potatoes).
To date, the Truck has visited 48 states (all but Hawaii and Alaska), traveled through 5,000+ towns/cities and traveled more than 100,000 miles since its 2012 launch celebrating the 75th Anniversary of the IPC. The Big Idaho® Potato Truck was built by Chris and Sharolyn Schofield of Weiser, Idaho with the help of a few specialized contractors. The Truck took a full year to design and build.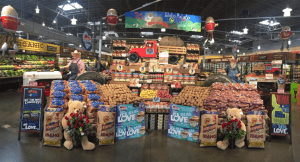 On Dec. 22, the Idaho Potato Commission will once again sponsor the Famous Idaho Potato Bowl will celebrate its 20th anniversary.  If you are a driver having a layover in Boise, you ought to check with a local Idaho potato shipper because there's a good chance you can get a free ticket to the game.
Hosted in Albertsons Stadium at Boise State University in Boise, Idaho, the game is unique as it's the longest-running cold-weather bowl game played on the arena's famed blue turf.
The Idaho Potato Commission (IPC) has a history of using creative marketing techniques to draw attention to its state's potatoes and this fall and winter are no exception.
Frank Muir, president and CEO for the Idaho Potato Commission, Eagle, said in November, the group's famed Big Idaho Potato Truck turned heads as it traveled as part of an entourage transporting the 60-foot Capitol Christmas Tree from Payette National Forest in Idaho to Washington, D.C. The Big Idaho Potato Truck delivered hundreds of ornaments made by Idaho schoolchildren and participated in local events that took place along the cross-country journey.
The Big Idaho Potato Truck was built five years ago to celebrate the commission's 75th anniversary and has now traveled more than 100,000 miles promoting the heart-healthy benefits of Idaho potatoes. The campaign has also donated to local charities through its "A Big Helping" program.
Regionally, retail promotions are planned at Albertsons and Safeways with displays featuring information about the football game. Further promoting Idaho potatoes is the fourth annual Idaho Potato Drop for New Year's Eve. Held in downtown Boise, thousands of people gather in front of the state capital to see the giant potato drop (like Times Square's ball).
Finally, in January and February, the commission will again promote Potato Lover's Month and its 26th annual retail display contest.
Idaho potatoes – grossing about $4200 to Atlanta.