Posts Tagged "blueberry consumption"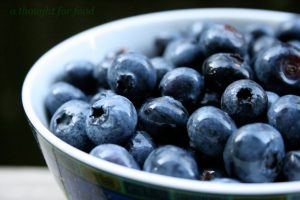 In 2016 Washington state shipped 120 million pounds of blueberries, which was six times more than a decade earlier and is now America's largest blueberry shipper.  In 2017 the final total was more like 132 million pounds.   In 2018, if growing conditions cooperate, the state's blueberry shipments could hit 145 million pounds.
Blueberry shipments from Washington occur basically over a five-month period from early June until the middle of October.  This is longest season of any blueberry producing state in America.  The first berries of the season come out of Eastern Washington, followed by Northwest Washington.
The biggest volume blueberry counties in Washington are Whatcom, Snohomish and Skagit on the westside of the state and Benton and Franklin counties in Eastern Washington.
Before long, Washington blueberry shipments could reach 200 million pounds annually.
Washington surpassed Georgia in 2015 when it became the nation's top blueberry producer.  Coming in 3rd with blueberry shipments is Michigan, followed by Oregon.
Washington has about 18,000 acres of "blues," with about 5,000 acres located in the eastern part of the state, which now produces about 40 percent of this state's blueberries.  Eastern Washington has some of the largest blueberry growers in the world.
Whatcom County in Northwest Washington is the leading county in the state for production of blues, accounting for about 7,000 acres of blueberries.  Production there has doubled in the past eight years.  Notably, a third of those plants are 4 years old or younger.
Across the state there is a lot of new production from young fields and in 2016 at least 1,000 new acres of blueberries were planted.  Organic blueberries now make up about 25 percent of the total crop.  This follows a worldwide trend where production has increased 40 percent between 2012 and 2016.  An astounding number is that between 1994 and 2014, U.S. blueberry consumption increased 599 percent!
Washington state has four sectors of blueberry production: organic fresh, organic processed, conventional fresh and conventional processed.
Blueberry production in Washington has grown so fast it doesn't have the capacity to pack all of its fresh or processed crop.  It is estimated at least 40 percent of Washington's blueberry crop is packed or processed out of state. Oregon and British Columbia are primary destinations. But more than 2 million pounds each also are shipped to Idaho and California for packing.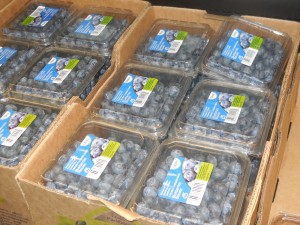 by U.S. Highbush Blueberry Council
FOLSOM, Calif. – The blueberry industry is projecting a 25 percent increase in North American production over a four-year span, growing from 750.2 million lb. in 2015 to 940 million lb. in 20191. North American production for 2016 is projected to again surpass 750 million lb., with global production anticipated to surpass 1.4 billion lb.
Soaring demand has created a nearly billion dollar industry in the U.S. Top-producing regions include California, Florida, Georgia, Michigan, New Jersey, North Carolina, Oregon and Washington.
As the industry, led by the U.S. Highbush Blueberry Council (USHBC), promotes blueberries as healthy lifestyle staples, North American consumption and purchases continue to keep pace with supply. Specifically:
North American per capita blueberry consumption grew nearly 50 percent between 2010-20152
Fresh blueberry sales at U.S. retail amounted to $1.5 billion in 2015, up 7 percent versus 2014, making blueberries #2 in fresh berry dollar sales3
Frozen blueberry sales reached $189.6 million in 2015, up 4 percent versus 2014, making blueberries #2 in frozen fruit dollar sales3
In 2013, Americans were nearly twice as likely as they were in 2004 to buy blueberries in the coming year and 84 percent cited awareness of blueberry health benefits, up 115 percent over 20044
Growing Export Markets
North America isn't the only market of focus for the blueberry industry. Approximately 10 percent of the total U.S. highbush crop is exported each year, with fresh exports totaling more than 79 million lb. in 2014, up 60 percent from 49.3 million lb. in 20055.
The USHBC aims to increase industry export figures substantially in the coming years by expanding existing export markets and opening new markets where fresh blueberries from the U.S. aren't currently available, including Australia, Chile, China, Philippines, South Africa, South Korea and Vietnam.
About the U.S. Highbush Blueberry Council
One hundred years after the first commercial crop of highbush blueberries was sold at a New Jersey farm stand, blueberry demand continues to keep pace with supply due to promotion efforts led by the U.S. Highbush Blueberry Council, an agriculture promotion group, representing blueberry growers and packers in North and South America who market their blueberries in the United States. The blueberry industry is committed to providing blueberries that are grown, harvested, packed and shipped in clean, safe environments.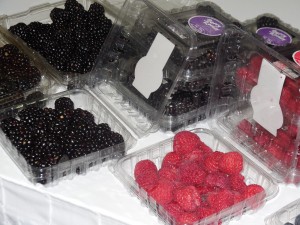 As consumers continue to search for fresh produce that offers the healthiest fare available, they are increasingly turning to berry consumption.
And this trend also confirms that inclusion of berries as an active ingredient in a host of food items at home continues to grow: they are a do-not-disregard ingredient.
One of the rock stars of the berry category is the blueberry, which today is only surpassed by strawberries among consumer berry purchases. Due to their undeniable presence as a superberry and superfood, blueberries have been equally embraced by Millennials who are writing their own formulas for physical fitness as well as seniors, the generation of consumers that continues to embrace food as vehicles of nutrition carefully and naturally packaged to deliver a one-two punch.
According to Josh Borro, author of The Upshot, information released by the U.S. Department of Agriculture showed that blueberry consumption increased 411 percent from 2000 to 2012. Strawberry consumption increased 60 percent during this time frame, and fresh raspberry consumption increased 475 percent.
Borro said that advances on the supply side, which have resulted in delivery of a superior piece of fruit farmed under optimum conditions, give consumers exactly the kinds of berries they are craving.
While the total percent increases show that Americans are loving their berries, there is a sacrificial side to the equation. According to Burro, increases in berry consumption are reflected in decreases in consumption of other fruit such as apples and bananas.
One of the factors influencing increased — and increasing -– availability of berries is the fact that these categories have been strengthened through increased plantings of superior strains in ever-growing locations around the globe. The berry industry is a global category, and consumers are able to enjoy their berries of choice regardless of the time of year as larger export volumes make their way into the United States during the domestic off-season.
Another factor that has driven berry sales is the fact that they are a perfect fruit to eat "as is." According to the 2015 State of the Plate report issued by the Produce for Better Health Foundation, 83 percent of all fruit is eaten "as is."