Posts Tagged "Michigan apples"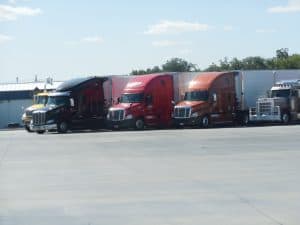 While Colorado potatoes are pretty well known to produce haulers, here are some loading opportunities such as California mandarins, Michigan apples and what — broccoli from Maine!  Yep, that is right.  Check it out.
The San Luis Valley of Colorado has 51,900 acres of potatoes which is up 800 acres from last season.  Russets remain the primary spud shipped from the region, making up approximately 95 percent of the annual shipments.  
Red potatoes now account for around 5 to 7 percent of the volume, while yellows are also increasing making up nearly 10 percent of production.  Fingerlings and specialties account for about 3 percent.  Over all, annual shipments have remained steady in recent years  Last season Colorado had 14 million hundredweight (cwt) of potatoes.
Colorado potatoes – grossing about $2100 to Chicago.
Sunkist Mandarin Shipments
Sunkist Growers Inc. based in Valencia, CA will start shipping California mandarins on November 1st, and will be shipping  a lot more of the citrus this season.  Mulholland Citrus of Orange Cove, CA recently joined the Sunkist cooperative and will add 8 million 5-pound cartons to Sunkist mandarin shipments this year, doubling the volume of Sunkist from last season.  Sunkist has thousands of grower-members as part of its cooperative, which are  based in California and Arizona.
Michigan Shipper Expands
Riveridge Produce Marketing Inc. of Sparta, MI ships about 35 percent of fresh Michigan apples and how now entered the apple cider business with the opening of the new Riveridge Cider 17,400-square-foot cold storage.  The opening was September 8th starting with blended gallon and one-half gallon cider.  It includes cold pressing and bottled blended fresh apple cider, as well as varietal blends of Fuji, Gala and Honecrisp.  The new operation can bottle 30,000 gallons a day.
Maine Broccoli Shipments
Hapco Farms of Riverhead, NY has been growing and shipping Maine broccoli for over 20 years, producing in excess of one millions boxes every season from July through October.  It has eight different varieties of broccoli, depending upon the time of the year.