Posts Tagged "Northern Plains Potato Growers Association"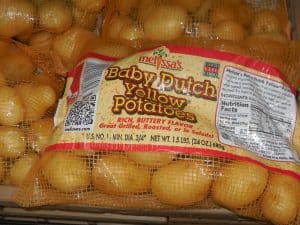 By Ted Kreis
Yellow potatoes continue to gain market share and the gain is mostly at the expense of russets and whites, two potato types shippers in the Red River Valley haven't grown for the fresh market in years.
Red River Valley red production has been up and down in recent years but one trend is clear, the valley is growing more yellows. In 2010 the valley produced just over 200,000 hundredweight (cwt.) of yellow potatoes.  Just five years later in 2015 the valley produced 607,000 cwt., a three-fold increase. In 2016 the number increased even more despite some yellow losses in the northern valley.  On a percentage basis, yellow potatoes made up just six percent of the Red River Valley fresh crop in 2010; the past two years they have averaged 14.5 percent.
Heimbuch Potato located south of Oaks in southeast North Dakota is geographically separated a bit from other Red River Valley shippers but they have close business ties with the valley.  They are also included with the Red River Valley for USDA  production and shipment numbers.  Not too long ago Heimbuchs grew three types of potatoes for the fresh market; reds, yellows and russets.  But brothers Chad and Josh Heimbuch picked up on the popular yellow trend early and in 2013 they switched to all yellow potato production.
Other Color Trends 
Nationwide white potatoes for the fresh market have been the big losers.  Since the 2008 crop year white potato shipments have decreased 43.3 percent, according to numbers compiled by the North American Potato Market News.
Russet shipments so far this season mimics closely 2008 although russets are down 7.7 percent from 2009 when they hit a 10 year peak.
U.S. red shipments had increased about 14% between 2009 and 2015 crop years but have regressed this year because of short supplies here in the Red River Valley, the nation's largest red producer..
(Ted Kreis is the Marketing & Communications Director for the Northern Plains Potato Growers Association, East Grand Forks, MN)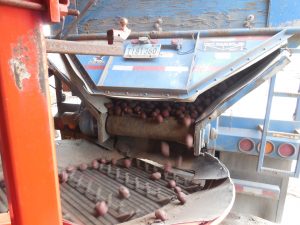 The Red River Valley of North Dakota and Minnesota historically has been the largest red potato shipping area in the country.  However, devastating weather factors may change that for the 2016-17 shipping season.
Ted Kreis, editor of Potato Bytes, the weekly online news publication of the Northern Plains Potato Growers Association (NPPGA) reports the heart of "Potato Country" in northeast North Dakota was devastated by baseball size hail that lasted up to 35 minutes on the night of July 19th.
The worst hail damage was along Highway 18 from Mountain to Hoople in Pembina and Walsh Counties but heavy rain, hail and strong winds  caused damage to a much larger area extending south into northern Grand Forks County and east to the Red River
Bruce Huffaker, publisher of North American Potato Market News (NAPMN)  projects an 8.6 percent jump in red acres for the U.S. fall crop.  A small increase was projected for the Red River Valley, but that doesn't jive with the NPPGA's own surveys of valley wash plants that showed a small decrease.  Weather damaged red potato acres will trim harvest acres even further.
Huffaker's analysis projects an increase of nearly 5,000 acres in the top ten fall crop states.  Most notable is a 1,450 acre increase in Washington and just under 1,000 additional acres in Michigan.
The largest potato shipping state, Idaho, is projected to hold at 9,750 acres.  Those are high yielding irrigated acres which mean that Idaho's red potato production could rival the Red River Valley this year, especially if crop losses are as heavy as projected in northeast North Dakota.
Twin Falls, ID area russet potatoes – grossing about $3800 to Atlanta.
Britton Transport Inc., a U.S. subsidiary of Bison Transport Inc., announced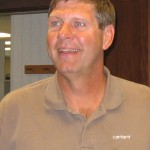 today the acquisition of Scott's Express Inc. and Scott's Transportation Services Inc. (collectively "Scott's), located in Grand Forks, North Dakota. Scott's was established in 1952 and is a nationwide trucking and truck brokerage company, specializing in Agribusiness throughout the United States and parts of Canada.
Brad Seymour
 "The acquisition of Scott's expands and builds upon Britton's customer relationships and capabilities as a logistics service provider in the Red River Valley," said Dave Britton, President of Britton. "Scott's has a long tradition of service excellence among agricultural shippers within the valley and will continue to service its customers with Britton's support. We are excited about the opportunity to serve Scott's long-term customers with Britton's asset-based capabilities."
 Brad Seymour, President of Scott's, will continue with the company in the transition of ownership and servicing of Scott's customers. He says, "I have known Dave Britton for over 25 years and have a high regard for the way Britton does business. We are very pleased to be joining forces with Britton and I feel it gives our employees and our customers a platform to grow in the years ahead."
 Founded in 1952, Scott's was initially operated as a filling station but soon after Archie Scott identified a need for sourcing trucks on behalf of local potato farmers. What started as a sideline became the first truck brokerage in the Red River Valley. Today, Scott's continues to service the potato and specialty crop sector with superior service and an unmatched reputation.
Financial details concerning this transaction have not been disclosed.
(This story appeared 8/28/12 in Potato Bytes, the online publication of the Northern Plains Potato Growers Association)