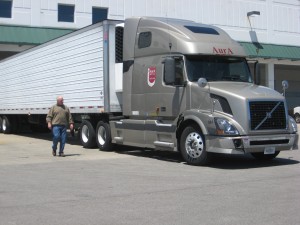 While plenty of apples continue to be shipped from the 2012-13 season out of Washington state, the new crop will start heading to market, mostly by truck, in less than two months!
Estimates of apple shipments each pre-season tend to be conservative, so it wouldn't surprise me if we ended up having record loadings, as happened for the 2012-13 season.
The nation's leading shipper of apples,  Washington state, will have fewer loads this coming season, but there will still be plenty of fruit for hauling – even from there.
An estimated 251 million bushels of fresh-market and processed-market apples are expected to be shipped in the new season, up from 215 million for the 2012-13 crop, according to estimates.
About 67% of U.S. apples typically go to the fresh market, according to the Vienna, Va.-based U.S. Apple Association.
While production in industry leader Washington is expected to fall, from 154 million to 148 million bushels, big gains in Michigan and New York, which were devastated by freezes in the spring of 2012, should  result in even more apple loads than last season!
An estimated 26.3 million bushels of apples could ship from Michigan in the 2013-14 season, up from 2.7 million bushels this season.
New York production is expected to jump from 16.9 million to 34 million bushels.
Pennsylvania's apple volumes are projected to fall from 11.7 million to 10.5 million bushels.
The 26.3 million bushel total in Michigan would be the largest since 2009, when about 27.4 million bushels shipped from the Wolverine State.
Washington state pretty much has a lock on apple shipments right now – grossing about $4300 to Chicago, around $6500 to New York City.