Posts Tagged "Wisconsin potatoes"
Peruvian "grass" (asparagus) imports by the U.S. will be peaking soon.  At the same time in Wisconsin, a Spudmobile is touring the Midwest as the Badger state potato season gets underway.
During the past five years Peru has accounted for about 40 percent of the world's supply of asparagus and export of "grass" the year around to the United States, although some months are much heavier than others.  The lowest volume occurs during February and March and usually peaks during October, November and December.
The U.S. imported over 10 millions pounds per month of Peruvian asparagus from May through December in 2016.  However, it topped 20 million pounds for the final four months of the year.  During December nearly 30 million pounds of "grass" was imported from Peru.
By contrast, imported asparagus from Mexico has huge shifts with February and March close to 70 million pounds each month compared to supplies dwindling to 10 million pounds or fewer the last four months of the year.
The United States imported nearly 475 million pounds of fresh asparagus in 2016, which put it in a virtual tie with 2014 for most asparagus imported in the past five years.
By Wisconsin Potato & Vegetable Growers Association
Antigo, Wisconsin -New crop Wisconsin potatoes are hitting the market and Trig's stores aren't missing a beat in letting people know.  The popular Wisconsin retail chain kicked off their Wisconsin potatoes promotion 2th by picking spuds at the Rhinelander Agricultural Research Station for the Rhinelander Area Food Pantry. On September 23rd, the Spudmobile begans its tour of all the Trigâ's stores starting in Rhinelander and then continuing that afternoon at the Eagle River store.
Through hands-on exhibits and eye-catching graphics, Spudmobile visitors will learn how farmers are stewards of the land and how they incorporate the latest technologies into their agricultural practices. When visiting the Spudmobile, guests will learn about various varieties of potatoes grown in Wisconsin, how they are planted and harvested, the nutritional facts about potatoes and some statistics about America's favorite vegetable. Kids will be completely engaged as they play games on the interactive touch table and the Field to Fork exhibits.
The Wisconsin Spudmobile was developed by WPVGA, which is a non-profit organization that represents and promotes the State's 300 potato and vegetable grower members and affiliates. The Spudmobile makes frequent appearances at locations throughout the Midwest including stops at schools, community events and retailers who provide Wisconsin potatoes to their customers.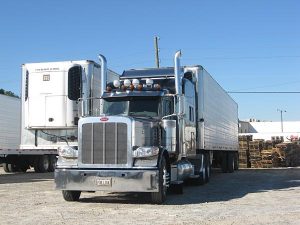 Here are the current top five fresh potato shipping regions when it comes to volume being loaded on a weekly basis:  Idaho, Colorado, Columbia Basin in southern Washington and Umatilla Basin in Northern Oregon, Wisconsin and the Red River Valley.
There's a reason why Northwest potato shipments are huge for the 2016-17 shipping season.  Some call it high yields, others call it over production.  And all of this centers around Idaho, the biggest potato producer of them all.,
For this season Idaho harvested 323,000 acres , totaling 13 billion pounds of potatoes — enough to fill 500 football stadiums 10 feet high.  This accounts for one-third of all U.S. potatoes.  Idaho is now shipping over 2000 truck load equivalents of potatoes a week.  Idaho potatoes are easily the biggest volume U.S. produce item  currently being shipped.
Idaho potatoes – grossing about $5400 to Boston.
In Colorado's San Luis Valley, about 750 truck loads of potatoes are being loaded each week.
Colorado potatoes – grossing about $1600 to Dallas.
In Washington state, fresh potato shipments are coming from the Columbia Basin, Skagit Valley, and Klamath Basin.  Washington State potato growers boast of the highest yields in the world, but total shipments each week are well below Idaho and even Colorado.  About 13 percent of Washington's overall crop is shipped for the fresh market.   Washington's Columbia Basin and adjacent Umatilla Basin in Oregon is averaging around 500 truck loads of potato shipments weekly.  This volume leans heavily towards specialty potatoes.
Columbian Basin/Umatilla Basin potatoes – grossing about $5400 to Atlanta.
Meanwhile, Central Wisconsin accounts for the bulk of the Badger state's potato shipments – currently averaging about 375 truck loads per week.
Wisconsin potatoes – grossing abut $2600 to Atlanta.
The Red River Valley of eastern North Dakota and western Minnesota is shipping about 175 truck loads of red potatoes each week.
North Dakota and Minnesota Red River Valley potatoes – grossing about $1750 to Chicago.
.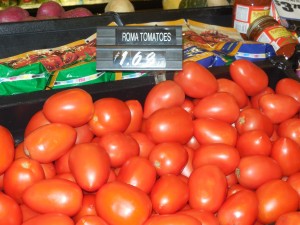 Here's a round up on tomato shipments from Southern California, Baja, as well as the Wisconsin potato loading outlook, and finally peaches from Colorado's Western Slope.
There has been light to modern shipments of roma, round, grape and cherry tomatoes from the San Diego/Oceanside area of California since June, with peak loadings expected be from mid-October through November.  A similar situation holds true for the nearby Baja pennisula in Mexico.  Quality is reported good and shippers are having no problem finding customer to ship tomatoes since demand is excellent, in part due to poor weather and tomato growing conditions on the East Coast.
Wisconsin Potato Shipments
Wisconsin potatoes for the 2013-14 season should have higher quality than a year ago when there was a high percentage of culls, and grade-out, which increases the chances of claims for a produce hauler.
Wisconsin potato observers are predicting a high-volume of shipments this season, with most of the volume being with russets….The Badger state's red potato loadings have been in good volume since mid-August.  Russets have been moving in good volume since late August.
Colorado Peaches
Colorado peach shipments will be in far smaller volumes this season due to spring freezes in and around Palisade, CO.  Peach shipments in Colorado run from about mid-July through September.  Loading are expected to be down to as much as  30 to 40 percent  of normal in the Palisade area, making it the  smallest peach crop since 1991.