Posts Tagged "Wisconsin potatoes"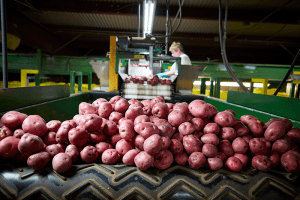 Looking ahead to the up coming season, Wisconsin potatoes shipments are expected to be average….In California, grape shipments should end up with another big time shipping season.
We're still a few weeks away from the beginning of harvest for Wisconsin potatoes, which will continue through October.  As the nation's third largest shippers of potatoes behind Idaho and Colorado, the Badger States has about 110 potato farmers, who together grow about 63,000 acres of spuds.  From season to season Wisconsin typically ships around 25 million to 28 million cwt., depending on the yields.
The USDA reports fresh shipments of Wisconsin potatoes in calendar year 2017 totaled 7.3 million cwt., while chipper potato shipments were 6.69 million cwt. and seed potato shipments were 1.635 million cwt.
Wisconsin organic fresh potato shipments totaled 45,000 cwt., reports the USDA.
California Grape Shipments
California grape shipments continue to increase each year as its popularity among consumers continue to grow.  Total shipments this season are expected to once again exceed 100 million boxes.
Early season grapes from the San Joaquin Valley has brought a significant increase in several newer table grape varieties and an overall increase in volume compared to a year ago, according to The California Table Grape Commission, based in Fresno, CA.  However, grape shipments from the Coachella Valley, which final figures come out, are expected to show a decrease.  Coachella shipments ended over a month ago.
The Commission's 2018 crop estimate, which was released in late April, projected it would have 115 million 19-pound-equivillent boxes thanks to an increase in those grown in the San Joaquin Valley.
At the same time, the Coachella Valley is expected to have approximately 4.5 million boxes, down from nearly 5 million cases a year earlier.
It remains to be seen how the July heat wave in California will affect grape shipments.
California is home to more than 85 grape varieties, with red, green and black all available from May through early January.  Last year, the state saw more than 109 million boxes shipped, headed to approximately 55 countries with a crop value of nearly $1.81 billion.