Posts Tagged "Red River Valley"
If you want to make it in trucking, you should take some pointers from a real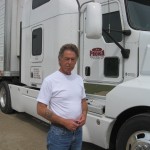 veteran, Duane Riendeau.  Although he's now a company driver, for most of his career he was a successful owner operator.
He's still running over the road, but he takes off a couple of months each year, raised five kids, and still enjoys what he is doing.
The resident of Grand Forks, ND  began trucking at age 26.  Until seven years ago when he became a driver for Troy Pecka Inc. of East Grand Forks, MN, he was an owner operator.  Now 65, Duane doesn't want to work as hard, pretty much selects his hauls, and still does his share of trucking.  Yet, he usually takes off around January and February each year and relaxes in Arizona.
"I owned a truck for 25 years.  I really enjoyed it.  I paid for every truck I bought and I can't complain.  I had five boys and one girl and most of them went to college.  I don't have a lot of money left, but I accomplished that anyway," he says in a modest, soft spoken voice.
"All my kids are grown and they are doing pretty darned good," he says.  The only kid involved in trucking is a son with a couple of trucks that run locally for a business his son owns.
So how does a guy raise give kids, vacation two months year and pretty much set his own driving schedule?
Duane says if you are a produce trucker, you have got to be "connected" and "be careful because a lot of people are out there who won't pay."  For the young, inexperienced persons entering trucking he suggests relying on the credit and rating services such as the Blue Book and the Red Book.  These will give one a good idea of how reputable a company is and show their pay practices. 
"When it comes to rejected loads or claims, you sometimes learn as you go.  I look my loads over when I'm being loaded.  You can telll when the produce is fresh, or if it is 'iffy'."
When it is "iffy" with quality or appearance concerns, Duane stresses the need to tell your customer about its condition.  It is better the load be "kicked" by the buyer at the loading dock than after you have delivered it to the customer.  The shipper may not like what the trucker is telling the customer, but that shipper will also realize the product isn't what it should be.
Duane says there are a lot of good trucking companies to work for, but that Troy Pecka was an independent trucker himself, plus his father and brother were in trucking.
"Troy understands the whole business.  I go (on hauls) when I want to go with his truck, just like it was my own.  All he expects is that the truck makes money.  There are five or six guys my age that work for him and he wouldn't have it any other way.  He knows when you leave with a load it is going to get there," Duane says.
Duane actually leased his own truck to Troy Pecka Trucking for four years, before selling it and becoming a company driver.
He is now driving a 2007 Kenworth T-600 with a C-13 Cat engine with 475 h.p., pulling a Great Dane trailer.
Duane has nothing but praise for the Great Dane, saying "you pay for what you get."  He cites the Dane's heavy insallation and sturdy floors, noting some cheaper brands of trailers "are throw aways" because they are not built as well.
"I haul quite a bit of produce," Duane relates.  "I've hauled everything you can possibly imagine.  We do haul some frozen items.  I haul a lot of raw (fresh) potatoes out of the Red River Valley."  However, he also hauls everything from watermelons to lettuce, cabbage and other vegetables and citrus out of South Texas.
"I've always hauled a lot of produce and always made a living at it," he states. 
That's pretty obvious, having raised five good children and vacationing in Arizona during part of the winter.